Point Park splits two games at Carlow with 9-8 loss and 7-0 win in KIAC play
April 17, 2013 at 3:00 p.m. ET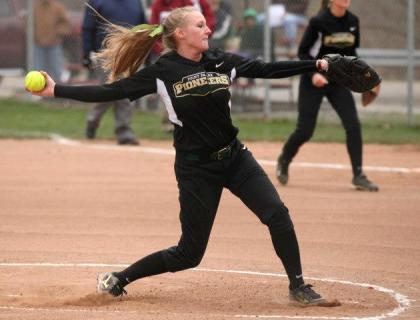 Kelsey Robertson threw a five-hit shutout with seven strikeouts in the Game 2 win over Carlow. Photo by Lyddia Ankrom.
KENNEDY TWP., Pa. -- Senior Kelsey Robertson threw a five-hit shutout to give Point Park University softball a 7-0 victory at Carlow in Game 2 of a KIAC doubleheader on Tuesday (April 16) at Lind Field. The Pioneers lost the first game, 9-8, with six unearned runs given up the last two innings, but Robertson's gem earned the split for Point Park.
Point Park (21-11, 14-6 KIAC) is still alone in second place in the KIAC, and Carlow (12-12, 6-10) is in sixth place of eight teams. The Pioneers have won three of four games in the season series versus their crosstown rival Carlow.
The Pioneers banged out 10 hits and seven runs (six earned) versus Carlow starter Jenna Grogan in Game 2. The Pioneers led, 5-0, through five innings to cruise to the win. Robertson struck out seven, walked none and worked out of a few jams to keep the Celtics off the scoreboard.
Robertson is a senior from Frostburg, Md., who is 4-0 in seven starts since returning from a preseason injury that kept her out the first half of this season.
Senior shortsop Olivia Sorce was 3 for 4 with a triple, and No. 3-5 hitters Amanda Ardinger, Ashley Morran and Gabi Vogt were all 2 for 4 as the middle of the order did the damage. Vogt had two RBIs on a triple in the fifth that made it 5-0.
In the first game, Point Park charged ahead with three in fifth and four in the sixth for an 8-3 lead. But its defense allowed five unearned runs -- helped by two errors -- as Carlow tied things up at 8-8 in the bottom of the sixth.
The Celtics got the winning run in the bottom of the seventh when a pick-off throw to third got away. Kaysie Young, who had doubled and stolen third, scored on the play.
Winning pitcher Emily Pritts went all seven innings for Carlow. Although she gave up eight runs on 13 hits, only two of the runs were earned since the Celtics made four errors. She also walked four to give the Pioneers plenty of base runners.
Point Park totaled 13 hits but left some opportunities out there with 11 runners left on base. Amanda Ardinger was 3 for 5, and Danielle Dorunda was 3 for 4 with a homer and two RBIs.
Ashley Morran had two hits, one of which was a two-run homer as part of the Pioneers' three-run fifth inning. Point Park's four-run uprising in the sixth included Courtney Manovich's two-run double and Dorunda's two-run homer.
Kate Reese went all 6.2 innings on the mound for Point Park. The sophomore from Cresson, Pa., was charged with nine runs with only three of them being earned. Point Park made three errors, which was on top of 12 hits by the Celtics.
Point Park's next games are in KIAC play this weekend. The Pioneers play host to Asbury (Ky.) on Friday at 5 p.m. and Midway (Ky.) on Saturday at 1 p.m. All four weekend games will be broadcast with live streaming video on the Point Park Sports Network. WATCH LIVE at www.iHigh.com/PointParkSportsNetwork.