Point Park's dominant weekend continues with sweep of Midway, 12-4, 10-2
April 21, 2013 at 6:00 a.m. ET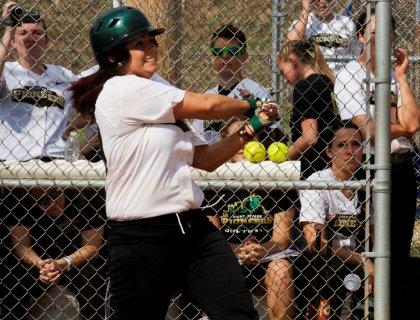 Sara Guffey was 3 for 4 with a walk-off, two-run homer in Game 2 vs. Midway. Photo by Nichelle Navarro.
KENNEDY TWP., Pa. -- Point Park University's dominant weekend of KIAC softball continued on Saturday (April 20) at Lind Field as the Pioneers hammered Midway (Ky.) College, 12-4 and 10-2, with both games ending in walk-off fashion on the mercy rule.
Danielle Dorunda was 3 for 4 with a homer and three RBIs, and her single in the bottom of the fifth ended Game 1 since it made the score 12-4. In Game 2, Sara Guffey was 3 for 4 with a two-run homer that put into effect the mercy rule in the sixth inning at 10-2.
Point Park (25-11, 18-6 KIAC) swept its weekend home games versus KIAC teams with all four of them ending on the mercy rule with a walk-off win for the Pioneers. The weekend started with Friday night's routs of Asbury, 9-1 and 10-0.
Midway (12-21, 10-10 KIAC) entered Saturday in third place in the KIAC and just a few games behind Point Park, but the Pioneers stretched out the distance in the standings with 15 hits in Game 1 and another 11 hits in Game 2.
The offensive explosion on Saturday included five home runs -- three by Ashley Morran. Morran belted two solo homers in the first game and smashed a two-run shot in the first inning of Game 2 for a 2-0 lead early. Morran now has a team-high eight home runs and 44 RBIs. On the day, she was 5 for 6 with three homers, a double and six RBIs.
Point Park also pitched it great with Kate Reese and Kelsey Robertson combining to cover the five innings of Game 1 and Kristen Zelenka going all six of Game 2.
Reese (9-3) got the win in the opener with four runs (three earned) on five hits over three innings. Her only big mistake was a three-run homer to Heather Oldham, which tied the score at 4-4 in the top of the third. But Morran's second homer of the game gave the Pioneers a 5-4 lead in the bottom of the frame.
Then Robertson came in to close out the last two innings and pick up the save, her first of the year. Robertson struck out two, walked two and gave up two hits.
The first game got a great start for the Pioneers as Courtney Manovich cleared the bases with a three-run double with two outs in the first as Point Park led, 3-0, after one. Manovich was 2 for 3.
The lead grew to 10-4 with five runs on five hits in the fourth. Taylor Geary's single and Olivia Sorce's sac bunt set the stage for the middle of the order to deliver an RBI single by Amanda Ardinger, an RBI double by Morran and an RBI single by Gabi Vogt, all right in a row. The outburst was capped off with Dorunda's two-run homer.
Ardinger and Geary were both 2 for 3 to join Morran and Dorunda as the hitting leaders. Vogt and Morran both scored three runs.
Morran's first-inning homer accounted for the Pioneers' slim lead of 2-1 through three innings of Game 2. But the Pioneers got things going with four in the fourth, highlighted by Ardinger's three-run double. Morran followed that with a run-scoring single to make it 6-1.
Dorunda's sacrifice fly and Manovich's RBI single put the lead at 8-2 after five. Guffey's two-run bomb followed in the next inning to end the game. Midway stayed away from Morran in the sixth by issuing the second walk of the game to the slugger, but Guffey came up next and made them pay.
Guffey's 3-for-4 performance led the offense, and Morran was 2 for 2 with two runs and three RBIs. Vogt was the only other player with two hits and went 2 for 3.
Zelenka improved to 8-3 by taking care of Midway with little harm. She gave up four hits with two of them being RBI singles by Samantha Youngblood in the third and fifth. But that was all the damage as she struck out five, walked two and gave up two runs in the six-inning complete game.
The recent run of winning 13 of their last 16 KIAC games has the Pioneers' top pitchers with great records. Robertson is 5-0, Reese is 9-3 and Zelenka 8-3.
Point Park's next games will be Wednesday, April 24 at home versus Salem International at 3 p.m. Those games will be broadcast live on the Point Park Sports Network with streaming video at www.iHigh.com/PointParkSportsNetwork.
Follow the Pioneers on Twitter @PointParkSports and Facebook.com/PointParkAthletics.