Point Park wins twice at Alice Lloyd (Ky.) with impressive day on offense
March 29, 2013 at 11:00 p.m. ET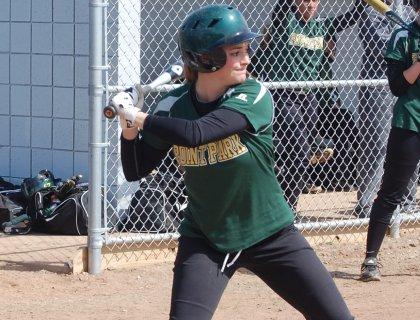 Olivia Sorce was 4 for 4 with three home runs and a double in the 23-0 win. File Photo by PPU Athletics.
PIPPA PASSES, Ky. -- Point Park had an impressive day on offense in its two KIAC softball victories at Alice Lloyd (Ky.) on Friday. The Pioneers won, 23-0 and 8-5, to improve to 10-6 overall and 4-2 KIAC.
Senior shortstop Olivia Sorce, a native of Verona, Pa., and a product of Penn Hills High School, was an amazing 4 for 4 with three home runs, a double, five runs and five RBIs in the 23-0 win to start the day. Sorce's double went off the fence as she just missed a four-homer game.
Amanda Ardinger, a senior from Moon Twp., Pa., was 4 for 5 with four runs and a big, three-run homer in the fourth. Lauren Fevola, a sophomore from Plano, Texas, was 2 for 4 with four RBIs and a home run. Sorce doubled in the first and then homered in the second, third and fifth. The Pioneers had at least one home run each inning.
Point Park scored five runs in the first inning and was ahead, 10-0, after three. The Pioneers added eight more in the fourth and five in the fifth as the game ended after five innings.
Other hitting leaders were Sara Guffey at 3 for 5 with three RBIs, Danielle Dorunda at 3 for 4 with two RBIs and LeAnne Blaeser and Courtney Manovich with two hits apiece.
Point Park sophomore right-hander Kate Reese pitched all five innings to get the shutout win. She allowed just two hits for the second start in a row, struck out two and walked none.
The second game of the day was tied, 3-3, after one inning, but the Pioneers went on to build an 8-3 lead before Alice Lloyd (0-6, 0-6 KIAC) scored twice in the bottom of the seventh.
Point Park had another 14 hits led by Destiny James with a 4-for-5 performance. Kristen Zelenka had the day off from pitching but was 2 for 3 with two RBIs as the designated player in Game 2. She delivered a two-run double in the first.
Taylor Geary was 3 for 5 and scored a couple of runs from the lead-off spot, and Ashley Morran picked up three RBIs to give her 18 through the first 16 games. Morran ripped a two-run double in the 6th to put the Pioneers up, 8-3. Natalie Zivic added a couple of hits, including an RBI single in the first.
Point Park freshman pitcher Sarah Urchek got the start in the nightcap and went all seven innings. She gave up five runs (three earned) on six hits. She struck out three and walked four.
Alice Lloyd has not been good in recent years. After Friday's losses, the Eagles have a record of 5-196 the last eight years. Four of those wins were forfeits by Asbury last season.
Point Park's KIAC road trip continues at Berea (Ky.) College on Saturday with a doubleheader at 1:30 p.m.
Follow the Pioneers on Twitter @PointParkSports and Facebook.com/PointParkAthletics