Point Park wins two KIAC games at Asbury (Ky.) takes edge for 2nd place
April 5, 2013 at 11:00 p.m. ET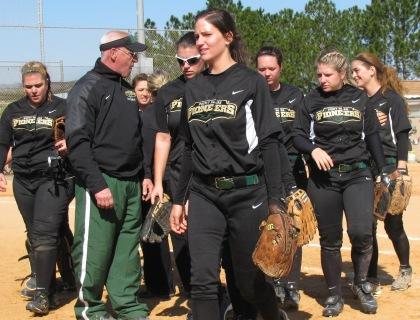 Courtney Manovich (center) hit a home run in the seventh for the 2-1 win in Game 2. Photo by Lauren Jones.
WILMORE, Ky. -- Point Park University won both ends of a KIAC softball doubleheader at Asbury (Ky.) University, 1-0 and 2-1, on Friday night to take the edge over the host Eagles for second place in the conference standings.
Point Park (14-8, 7-3 KIAC) now holds the edge over Asbury (10-14, 7-3 KIAC), which is tied with Point Park for second place in the league. Although both teams trail first place IU Southeast (20-4, 10-0 KIAC) by three games, the two wins on Friday were big for Point Park.
Ashley Morran's RBI double in the top of the first of Game 1 was all the offense in the opener as the Pioneers won, 1-0. Morran drove in a run in each game, and she knocked in Olivia Sorce, who was 3 for 4 to account for most of Point Park's seven hits.
The pitching was excellent in both games for the Pioneers, and Kelsey Robertson and Hannah Harley got things started with the combined shutout in Game 1. Robertson, pitching in her first KIAC game after her return from a preseason injury, went five shut-out innings with eight strikeouts and one walk. The senior from Frostburg, Md., scattered five hits as Asbury was never able to get on the board.
Harley picked up her second save by closing out the final two innings. She retired the Eagles in order in the sixth and survived a one-out base hit in the bottom of the seventh.
Asbury ace Summer Ratliff went all seven innings and gave up just the one run on seven hits. She struck out five, walked one and got 10 groundouts.
Point Park got on the board early once again in Game 2 as Morran ripped a two-out, RBI single in the top of the first. Taylor Geary had led off with a single and moved up to third on a sacrifice bunt from Sorce and a groundout from Amanda Ardinger.
Asbury tied this up at 1-1 in the second, and things stayed that way until the Pioneers' Courtney Manovich belted a solo home run in the top of the seventh to provide the eventual winning run. Manovich is a junior first baseman from Murrysville, Pa., who has been one of Point Park's best hitters in her first year as a starter.
Manovich's homer stood up because sophomore pitcher Kate Reese finished off her complete-game victory in the last of the seventh. Asbury got the tying run aboard with a lead-off single, but Reese ended things with three groundouts in a row.
The righty from Cresson, Pa., got 11 groundouts in all and also added five strikeouts against just two walks. She gave up one run on seven hits.
Offensively, Danielle Dorunda was 2 for 3 to lead Point Park.
Point Park's final KIAC road trip of the year concludes with a visit to Midway (Ky.) College on Saturday for a doubleheader at 1 p.m.
Follow the Pioneers on Twitter @PointParkSports and Facebook.com/PointParkAthletics