Point Park loses 10-9 and 8-0 in KIAC showdown with first-place Indiana Southeast
April 14, 2013 at 6:00 a.m. ET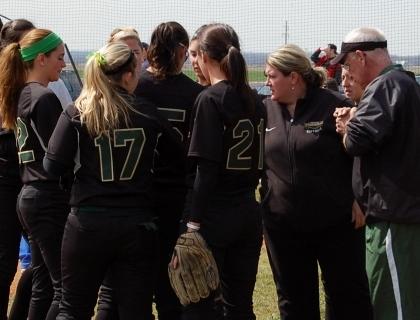 KENNEDY TWP., Pa. -- The Point Park University softball team had a KIAC showdown with first-place Indiana Southeast on Saturday at Lind Field at Fairhaven Park, but the Pioneers came up on the losing end in both games losing a slugfest, 10-9, in the opener and then falling, 8-0, in five innings.
Indiana Southeast (25-5, 15-1 KIAC) is ranked No. 25 in the NAIA Softball Top 25 Poll and has now swept the season series versus Point Park (18-10, 11-5), four games to none. Those four games represent IU Southeast's lead over second-place Point Park in the KIAC standings.
Point Park started the day just two games back of IU Southeast for the KIAC lead, but the big-hitting Grenadiers showed why they lead the KIAC in hitting with an .387 average and 28 home runs. Point Park kept pace in the opener but was blanked in the nightcap, which ended after five innings.
The losses put a stop to Point Park's season-long win streak of six games, but the Pioneers will get right back into KIAC action with a home doubleheader versus Berea (Ky.) on Sunday at 11 a.m. Berea (14-10, 9-7 KIAC) is tied for third in the KIAC and split two games at Carlow Saturday with a 5-3 win and a 7-5 loss.
In the first game, Point Park was up, 3-2, through five innings, but IU Southeast went on to build a 10-5 lead with four in the sixth and three more in the seventh. A three-run homer by Jordan Batliner was the big hit in the sixth, and the Grenadiers got three RBI doubles in the top of the seventh.
Trailing, 10-5, going into its last at-bat, Point Park put together a four-run rally that came up a run short. Amanda Ardinger belted a three-run double that banged off the top of the fence -- nearly going for a game-tying grand slam -- but she was stranded when Ashley Morran popped out to end the game.
Ardinger was 2 for 4 with four RBIs, and Morran was 2 for 4 with three RBIs. Taylor Geary, Courtney Manovich and Danielle Dorunda each had two hits.
Point Park was held scoreless on two hits by IU Southeast's Bethany Sullivan in Game 2. Taylor Geary got both hits for the Pioneers, who never really recovered from giving up five runs in the second inning on five hits.