Point Park wins twice on Senior Day, ends regular season at 29-11, 22-6 KIAC
April 27, 2013 at 11:00 p.m. ET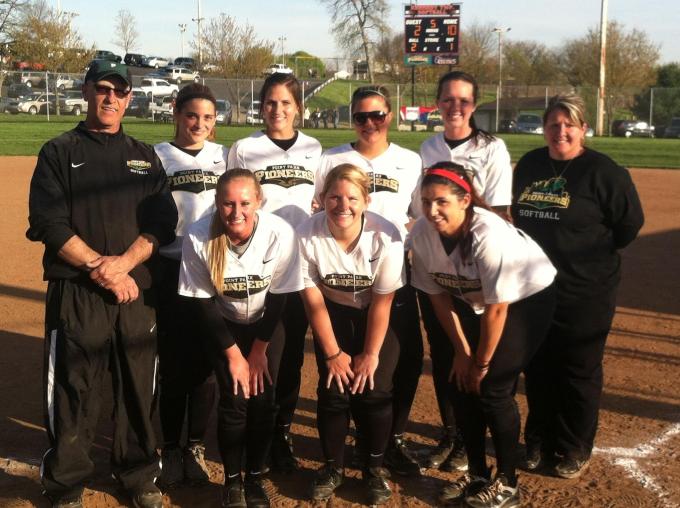 Point Park Softball 2013 Seniors front row (L to R): Kelsey Robertson, Amanda Ardinger and Sara Guffey. Back row (L to R): Olivia Sorce, Courtney Manovich, Kristen Zelenka and Danielle Dorunda. Assistant coach Rob Ferrari (far left0 nd head coach Michelle Coultas (right righ) also pictured.

By Kirsten Burkes, athletic communications student assistant
KENNEDY TWP., Pa. -- Point Park University softball swept Brescia University in a home doubleheader on Saturday at Lind Field. The Pioneers celebrated their Senior Day and improved their record to 29-11 overall with two wins, 12-3 and 6-0. The first game ended after five innings due to the mercy rule, and the Pioneers end the regular season at 22-6 KIAC.
The Pioneers scored 12 runs in Game 1 on nine hits and a total of five home runs. Junior second baseman Ashley Morran and freshman center fielder Taylor Geary with two apiece,  and senior left fielder Amanda Ardinger hit a two-run shot in the fifth to end the game on the mercy rule.
Point Park gained an early lead in the first inning with a solo homer by Geary followed by a two-run homer by Morran two batters later.
In the bottom of the third, Point Park scored another four runs to extend its lead to 7-0. Designated player Danielle Dorunda drove in two with a single to left field, and Geary doubled down the left field line to plate another two runs.
Brescia scored its first run in the top of the fourth on an error and Point Park answered with two more for a 9-1 lead. Ardinger reached on an error and scored on Morran's second home run of the game over the left field fence.
The Bearcats scored their remaining two runs via a hit batter with the bases loaded and another RBI on a single by right fielder Lauren Rodgers.
Point Park retaliated with Geary's second solo homer of the game to start the fifth. Shortstop Olivia Sorce reached on a bunt single, and Ardinger followed with her two-run homer, ending the game 12-3, walk-off win.
Senior pitcher Kelsey Robertson carried a no-hitter into the fifth inning until Rodgers' single but earned the win for Point Park. It ended up as a one-hitter for Robertson, who struck out four, walked one and gave up three runs (one earned) in the five-inning complete game.
Geary went 2 for 3 with two homers, and Morran went 3 for 4 with a pair of homers.
Seven seniors were celebrated before the Pioneers took Game 2, 6-0. Point Park did not score until the third inning when first basemen Courtney Manovich singled to left center and scored on a two-run homer run by Dorunda.
Morran extended the score to 4-0 after another solo homer – her third of the day and 12th of the year -- in the bottom of the fourth.
Three more runs were scored in the bottom of the sixth after Morran scored on a Manovich single.  Manovich was sent home along with pinch runner Abby Mathieu, on a two-RBI double by  Dorunda.
Brescia was unable to answer to find an answer for Point Park senior pitcher Kristen Zelenka, who earned the shutout win. Zelenka gave up only three hits, struck out four and walked one. Sorce, Manovich and Dorunda led in hitting all going 2 for 3.
Point Park is now finished with the regular season and will take its nine-game winning streak into the KIAC Tournament May 3-4 hosted by Asbury (Ky.) University in Danville, Ky. The Pioneers will begin play May 3 at 10 a.m. and will play three games that day if they continue to advance. The tournament continues May 4 with the semifinals and finals.