Point Park softball adds junior college all-region 1B/P Karen Mao
Aug. 2, 2013 at 1:30 p.m. ET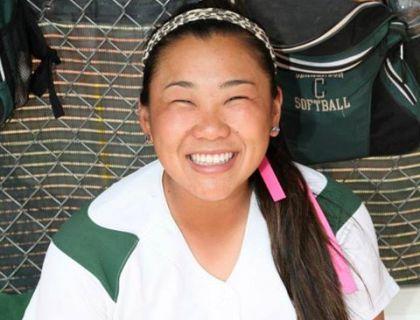 Karen Mao, an all-region player at Clarendon (Texas) JC has signed with the Pioneers. Submitted Photo.
PITTSBURGH -- Point Park University softball has added junior college transfer Karen Mao, a first baseman / pitcher, from Anaheim, Calif. Mao was an NJCAA Division I honorable-mention all-region player at Clarendon (Texas) College the last two years.
Mao hit a team-best .389 with three homers and 33 RBIs in 52 games last year for Clarendon. On the mound, she was the top pitching option with a 7-9 record and 4.97 ERA in a team-high 136.2 innings pitched.
"Karen Mao can pitch and also has a good bat," said Point Park head coach Michelle Coultas. "She is a good fielder as well and will add to our pitching staff and batting order."
Mao led Clarendon in batting average (.389), hits (68), doubles (21) and slugging percentage (.571). As a pitcher, she worked in 29 games, gave up 139 hits in 136.2 innings, struck out 118 and walked 66.
As a freshman, Mao hit .272 with three home runs, nine doubles and 31 RBIs. Her pitching record was 7-14 with a 5.01 ERA in 155.0 innings that year.
Point Park softball was 31-13 overall and 22-6 in the Kentucky Intercollegiate Athletic Conference in 2013. The Pioneers have 4 of 9 starting position players and 4 of 6 pitchers returning for next season.
Follow the Pioneers on Twitter @PointParkSports and Facebook.com/PointParkAthletics