Montour's all-state player McMurtrie headed to Point Park for softball
July 30, 2013 at 1:00 p.m. ET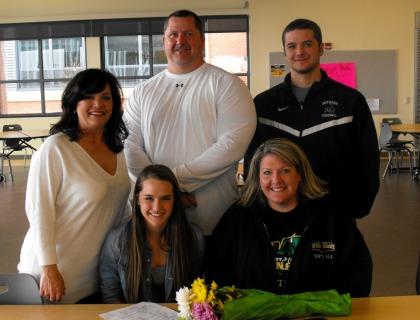 Alyssa McMurtrie has signed with Point Park softball. Pictured are Pioneers head coach Michelle Coultas (seated) and standing Alyssa's mother Sandy, father Dan and brother.


PITTSBURGH -- Alyssa McMurtrie, an all-state center fielder from Montour High School, is headed to Point Park University to play softball. McMurtrie will be a freshman for head coach Michelle Coultas' team this coming year.
McMurtrie is a native of Coraopolis, Pa., and she has been named PIAA Class AAA all-state the last two years. She is a four-time all-conference player who batted .371 with seven home runs and 12 RBIs this past year.
A four-year letter winner in softball at Montour, she led the Spartans to two WPIAL Class AAA titles during her career. The speedy McMurtrie is 5-feet tall and brings a lot of skills to the Pioneers.
"Alyssa McMurtrie is a lead-off type player who has a lot of speed and gets on base. She has some power and is also great in the outfield. She is coming from a winning program at Montour and is comfortable playing in Kennedy Twp. I have been watching her for years, so it is great to have her in the program."
Point Park's home field is Lind Field at Fairhaven Park, which is located in McKees Rocks, Pa. Montour High School softball also plays its home games there.
Point Park softball was 31-13 overall and 22-6 in the KIAC in 2013. The Pioneers have 4 of 9 position starters and 4 of 6 pitchers returning next year. Point Park graduated seven seniors this past year -- five from the starting batting order and the two top pitchers.
Follow the Pioneers on Twitter @PointParkSports and Facebook.com/PointParkAthletics