Point Park wins big, loses big to Pitt-Greensburg in non-conference action
April 3, 2013 at 9:00 p.m. ET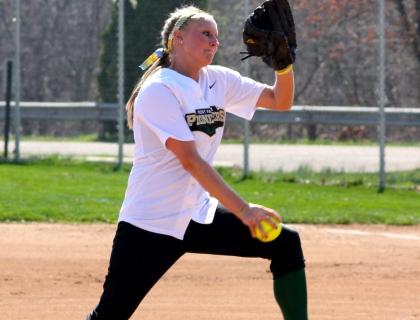 Kelsey Robertson threw four no-hit innings in her first outing this year. Photo by Lyddia Ankrom.
PITTSBURGH -- The Point Park University softball team had mixed results in its home doubleheader versus non-conference Pitt-Greensburg Wednesday at Lind Field at Fairhaven Park -- the Pioneers won 11-2 in five innings and then lost 12-2 in five innings and are now 12-8 overall.
Senior pitcher Kelsey Robertson, from Frostburg, Md., got her first start of the year in Game 1, and she did not allow a hit or a run in her four innings for work. Even with the no-hitter going, Robertson was lifted after four innings since it was her first time in the circle since battling a preseason shoulder injury.
Robertson, Point Park's ace from last year who posted career-highs of 13 wins and 134 strikeouts last year, struck out seven and walked two. The two walks she issued were the only base runners she allowed.
Point Park gave Robertson a 3-0 lead in the first as Ashley Morran ripped a two-run double, and Courtney Manovich delivered a two-run single with two outs. Earlier, Olivia Sorce doubled with one out, and Amanda Ardinger walked.
The Pioneers missed a chance to add on more versus Pitt-Greensburg starter Sarah Sopko as they left the bases loaded in the first. Sopko, a sophomore from Murrysville, Pa., entered the game having given up only two earned runs all year.
Point Park eventually got to Sopko as she ended up yielding nine earned runs (11 total) on nine hits. The big inning was the six-run fourth. Point Park sent 11 hitters to the plate with three hits, two walks, a hit batter and an error. Big plays were Sorce's two-run single, and Sara Guffey's bases-loaded grounder that got through allowing two runs to score.
Guffey came up big in the bottom of the fifth when she ripped a two-run double to the fence in right-center to make the score 11-2 and put into effect the 8-run mercy rule.
Point Park had to bat in the bottom of the fifth because Pitt-Greensburg's Alex Garsteck hit a pinch-hit, two-run homer with two outs in the top of the fifth off reliever Kate Reese to keep the game from ending after 4.5 innings.
Sorce was 3 for 4 with two RBIs and three runs. Ardinger also scored three times and was 1 for 2. Guffey was 1 for 4 but knocked in three runs. Morran didn't get much to hit as she walked three times after her big double in the first. Manovich totaled two RBIs, as well.
The second game didn't go as well for Point Park as its backups got a chance to play. Morran was the only regular in the lineup, which fell behind, 6-0, through three innings and saw UPG stretch out the margin with six runs in the fifth.
A bright spot was a solo homer by Teresa Davis to deep left-center field in the third, and that cut it to 6-1. The Pioneers got as close as 6-2 in the fourth when Morran doubled and scored on Natalie Zivic's liner to right.
But Pitt-Greensburg came back the next half inning with six runs, and they hit four home runs in the top of the fifth alone to go up, 12-2.
Point Park had three pitchers toss, and all three were freshmen. Hannah Harley took the loss after being down 3-0 when she exited after two innings. Rachel Hopfer pitched the next two, and Sarah Urchek retired three of the four batters she faced to close out the top of the fifth.
Point Park's next games are Friday at Asbury (Ky) at 5 p.m. and Saturday at Midway (Ky.) at 1 p.m. for a couple of KIAC doubleheaders on the road. That trip concludes Point Park's weekend trips to Kentucky with the remaining conference games all in Pittsburgh, including two at Carlow April 16.
Follow the Pioneers on Twitter @PointParkSports and Facebook.com/PointParkAthletics