Point Park wins two KIAC games at Midway (Ky.), improves to 16-8, 9-3 KIAC
April 6, 2013 at 11:59 p.m. ET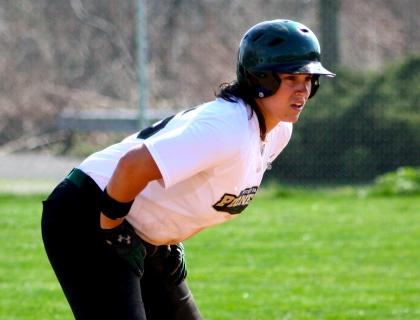 Ashley Morran hit a two-run homer at Midway and has 27 RBIs through 24 games. Photo by Lyddia Anrkom.
MIDWAY, Ky. -- The Point Park University softball team picked up another couple of KIAC road wins Saturday at Midway (Ky.), 2-0 and 6-2, to bump its record to 16-8 overall and 9-3 KIAC.
The Pioneers scored two in the sixth inning to win the opener and scored in five seperate innings with all six runs being unearned in the nightcap. With the wins, Point Park is alone in second place in the KIAC, two games behind first-place IU Southeast (21-5, 11-3 KIAC).
Point Park has completed its KIAC road trips to Kentucky for the regular season and has come out of that section of the schedule at 9-3. The only conference games left for the Pioneers are 14 home games and two at Carlow.
Taylor Geary was 3 for 4, and Gabi Vogt was 2 for 3 in the 2-0 victory to start the day Saturday. Point Park broke a scoreless tie with four hits in row to produce two runs in the sxith Vogt, Danielle Dorunda and LeeAnn Blaeser each singled, and Geary doubled to make up the rally with Blaeser and Geary picking up one RBI apiece.
Kate Reese got the victory with a complete-game shutout. She allowed only four hits, struck out two and walked one.
Point Park had runners on base virtually the entire duration of Game 2. The Pioneers did take advantage of several Midway errors with Courtney Manovich, Vogt and Blaeser getting RBI base hits for a 4-2 lead through five. Ashley Morran crushed a two-run homer in the sixth to increase the lead to 6-2.
The Pioneers were down early as starter Kelsey Robertson gave up two runs on two hits and three walks in the top of the first. But Robertson settled in to pitch four innings and keep the Pioneers in it with just the two runs allowed on four hits.
Hannah Harley notched the save in three scoreless innins of relief. She gave up only one hit to earn her third save of the season.
Point Park gets right back into KIAC play with its next games, which are at home to Carlow on Tuesday, April 9 at 3 p.m. (DH).