Point Park opens KIAC play with two losses at conference favorite IU Southeast
March 22, 2013 at 9:15 p.m. ET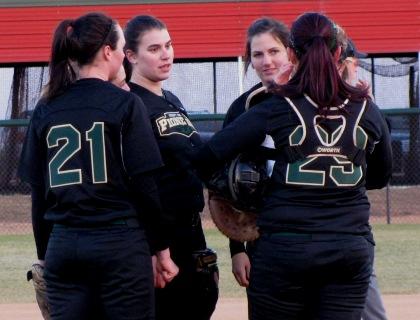 NEW ALBANY, Ind. -- Point Park University played its first-ever softball games in the Kentucky Intercollegiate Athletic Conference on Friday afternoon and was handed two losses by defending champion and 2013 preseason favorite IU Southeast, 5-3 and 5-4.
Point Park (6-6, 0-2 KIAC) was playing for the first time in two weeks after its last four doubleheaders on the schedule were all rained out. The Pioneers made three errors each game, and a couple of unearned runs came home late in each game to account for the winning runs.
That's usually all that a good team needs to win, and IU Southeast (12-4, 6-0 KIAC) used the opening to stay perfect in the KIAC. The Grenadiers are receiving votes in the NAIA Softball Top 25 Poll at No. 35 overall and were ranked No. 20 in the preseason poll.
Point Park held leads of 1-0 and 2-1 in the opening game, which went back and forth until IU Southeast got two unearned runs for a 5-3 lead in the fifth. The score was tied at 1-1, 2-2 and 3-3 before the go-ahead runs came home on two costly errors by the Pioneers.
Senior Kristen Zelenka went all six innings for Point Park with one strikeout and one walk. She gave up five runs (three earned) on 10 hits.
Lead-off hitter Brookelyn Viskers had a big game for IU Southeast with a solo homer in the third and an RBI single in the fourth. Summer Sanders added an RBI double in the fourth. Whitney Estes, the No. 3 hitter, was 3 for 3.
Point Park managed only three hits versus IU Southeast ace Bethany Sullivan, who struck out three and walked one. The Pioneers benefitted from four errors by the hosts.
Taylor Geary scored on an error in the first for a 1-0 lead. Courtney Manovich singled home a run for a 2-1 lead in the fourth, and Olivia Sorce produced a run on a groundout for a 3-3 tie in the fifth.
But with the lead, IU Southeast's Sullivan retired the Pioneers 1-2-3 in the sixth and seventh innings.
In game two, Point Park had a 2-1 lead after two as Geary ripped a two-run double in the top of the second. The freshman center fielder from Glassport, Pa., had two of the Pioneers' five hits.
But IU Southeast scored the next four runs for a 5-2 lead, and Point Park could only cut it to 5-4 on Kristen Zelenka's two-run single in the top of the sixth.
There was still only one out after Zelenka's clutch pinch hit, but the Grenadiers brought in reliever Jenna Swain for the save. She racked up four strikeouts while pitching the last 1.2 innings. Winning pitcher Amber Eckstein gave up four runs (two earned) on five hits through 5.1 innings. She struck out three and walked four.
Point Park's game two starter was freshman Hannah Harley, who went all six innings. She gave up five runs (three earned) on nine hits with one strikeout and one walk. The scored was tied, 2-2, and she retired the first two batters of the fourth inning before an error kept things going for Jade Detzer's RBI double and Visker's RBI single. That gave the Grenadiers a 4-2 lead.
Manovich was 1 for 3 with a walk and two runs for Point Park. Viskers and cleanup hitter Katie Jelinek each had two hits for IU Southeast.
Point Park's KIAC weekend roadtrip continues Saturday at Brescia (Ky.) for a doubleheader in Owensboro, Ky. Game time is 1 p.m. Central Time.
Follow the Pioneers on Twitter @PointParkSports and Facebook.com/PointParkAthletics