Point Park University Pioneers Softball 2014 Season Outlook
March 18, 2014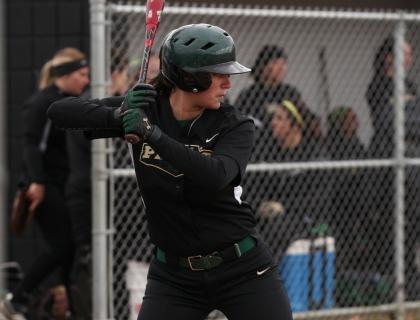 KIAC Player of the Year and NAIA Honorable-Mention All-American Ashley Morran returns as the top player.

2014 SOFTBALL LINKS: QUICK FACTS / SCHEDULE / ROSTER
PITTSBURGH -- The Point Park University softball team has gotten its 2014 season underway with a 2-6 record on its annual spring-break trip to the Dot Richardson National Training Center Spring Games in Clermont, Fla., March 1-7.
The Pioneers begin the northern portion of their schedule this week and welcome the start of Kentucky Intercollegiate Athletic Conference play this weekend.
It's a rebuilding year for the Pioneers, who graduated seven seniors from the team that was 31-13 overall and 22-6 in the KIAC last year. Those seven seniors included five positional starters in the batting order and two of the team's top pitchers.
The Pioneers have a handful of key players returning, but it is largely a new team, one that will need upperclassmen to step in as starters for the first time in their careers and also to have a few freshmen contribute right away.
"We are not young, but we are inexperienced," said eighth-year head coach Michelle Coultas. "It is a challenge to replace so many seniors who all started, but we have the players here to get the job done."
The following is a 2014 Season Outlook breaking down the Pioneers' Hitting / Fielding and Pitching.
HITTING / FIELDING
Point Park does have its top player returning, senior shortstop Ashley Morran (Washington, Pa./Trinity HS). The reigning KIAC Player of the Year was an NAIA Honorable Mention All-American the last two years and has hit .363 with 29 home runs and 127 her first three seasons on campus.
Morran had another impressive season in 2013 she she hit .388 with career-highs of 13 home runs and 56 RBIs. The Pioneers' cleanup hitter, Morran had an .813 slugging percentage as one of the most feared hitters in the KIAC.
Morran is one of four starters returning to the batting order, although one of them will be out with an injury to start the year.
Sophomore center fielder Taylor Geary (Glassport, Pa./South Allegheny HS) joined Morran on the All-KIAC first team last year by hitting a team-high .420 with five homers and 31 RBIs. But she injured her knee in the fall workouts and will hope to be back toward the end of the season.
The other two starters who are returning are junior third baseman Gabi Vogt (McKeesport, Pa./South Allegheny HS) and senior outfielder LeAnne Blaeser (Portales, N.M./Lamar CC).
Vogt hit .252 with 17 RBIs last year although she will be limited to designated-player duty early in this season due to an arm injury that will keep her from playing the field.
Blaeser hit .232 with 10 RBIs last year as the starting right fielder although she will make the move to left field in this her second year after transferring from the junior-college level.
And with Morran making the move from second base to shortstop this year, the Pioneers have different starters at all nine defensive positions. The Pioneers will have some players adjusting to new positions and also players adjusting to starting roles for the first time.
For the last four years, the Pioneers had four players who started their whole careers -- LF Amanda Ardinger (.368, 3 HR, 27 RBI), SS Olivia Sorce (.296, 4 HR, 22 RBI), 3B/DP Danielle Dorunda (.294, 3 HR, 23 RBI) and C Sara Guffey (.280, 2 HR, 19 RBI). Add in another senior starter from last year, 1B Courtney Manovich (.339, 2 HR, 26 RBI), and there are five positions that need to be filled.
"It will take some time to get some at bats and to get chemistry in the field," said Coultas. "I'm anxious to see how some players respond. The goal is to improve throughout the year and be playing our best at playoff time because everyone makes the conference tournament in the KIAC."
Among the upperclassmen who will be looked to for starting jobs is junior second baseman Natalie Zivic (Pittsburgh, Pa./Avonworth HS). She hit .273 with two RBIs in only 11 at bats last year. Another infield spot has senior Brea Magnone (Weirton, W.Va./Steubenville Big Red HS) at first base. She hit .227 with one RBI last year as a backup.
Behind the plate, the Pioneers have three players who will see time. Senior Teresa Davis (Vermilion, Ohio/Firelands HS) has the best career numbers of the three although it has been during limited duty. A two-sport athlete who was also a member of the basketball team at the school, Davis has hit .296 with 11 home runs in only 142 career at bats. She missed the softball trip to Florida but will now join the team now that basketball season is over.
The other catchers are junior Lauren Fevola (Plano, Texas/Liberty HS), who hit .294 last year, and sophomore Nikki Eagan (Pittsburgh, Pa./Langley HS), who hit .250 in 2013.
A new addition who will contribute right away is junior-college transfer Karen Mao, a native of Anaheim, Calif., who was an all-region player at Clarendon (Texas) College. Mao can play first base or third base and also has the ability to pitch. She hit .389 with three home runs and 33 RBIs as a sophomore last year at Clarendon.
Other players who are in the mix in the infield are freshmen Becca Babincak (Gibsonia, Pa./Deer Lakes HS), Haley Wisniewski (Pittsburgh, Pa./North Allegheny HS) and Katelyn Poremski (Pittsburgh, Pa./Upper St. Clair HS). Babincak is a top sub at second base, third base or short stop and can also play outfield if needed.
In the outfield, Point Park will be adjusting to new starters at all three positions. The only starter returning at the beginning of the year is Blaeser, who will move from right field to left field. With the loss of starting center fielder Geary to injury, that leaves the other two spots open.
The center field job has been won by freshman Alyssa McMurtrie (Coraopolis, Pa./Montour HS), who was an all-state player the last two years at Montour High School. McMurtrie will ease the loss of Geary and step into not only center field, but also the leadoff spot in the batting order.
Senior Abby Mathieu has been a backup outfielder and a pinch runner for three years and is a lead candidate to take over the starting right field job. She hit .250 last year as a backup and had a career average of .327 entering this year.
Adding depth to the outfield is senior Destiny James (Cumberland, Md./Fort Hill HS), who hit .346 as a backup last year and who may also see time in the infield. Other outfield reserves are junior Torrie Lee Chapman (Pittsburgh, Pa./CAPA) and freshman Felicia Thompson (Connellsville, Pa./Connellsville HS).
Defensively, Coultas is comfortable with the infield and noted that the newness of the outfield leaves that as an area to be proven.
"I'm very comfortable with the infield defense," said Morran. "We have good gloves and arms all around. In the outfield, we are young and inexperienced, so it will be an adjustment to a whole new outfield at all three positions."
PITCHING
On the mound, the top returning pitcher is junior right-hander Kate Reese (Cresson, Pa./Penn Cambria HS), who earned All-KIAC first-team honors last year at 11-4 overall with a 2.50 ERA. Reese has been one of the Pioneers' top pitchers her whole career, and she is the only returner from what was essentially a three-starter rotation last year.
Also getting most of the starts along with Reese in 2013 were graduated seniors Kelsey Robertson (7-0, 1.51 ERA) and Kristen Zelenka (9-4, 3.01 ERA), who each won over 30 games in their careers as four-year starters.
Reese led the Pioneers in wins (11), appearances (19), complete games (8) and tied for the team lead in innings pitched (81.1) last year. Opponents hit .264 off of her last, and she posted 44 strikeouts and nine walks.
The other returning pitchers for the Pioneers are young and inexperienced, but there is promise there. Sophomores Hannah Harley (Indiana, Pa./Indiana Area HS) and Sarah Urchek (Andover, Ohio/Pymatuming HS) return after getting last season under the belts. And junior Audrey Eisentrout (Cumberland, Md./Alleghany HS) is back after missing all of last year to injury.
Harley appeared in 12 games and made six starts last year while compiling a 3-4 record and a 4.33 ERA. Urchek appeared in six games, made three starts and was 1-1 with a 6.53 ERA. Eisentrout appeared in 11 games with three starts, a 3-2 record and a 5.85 ERA as a freshman in 2012.
A newcomer to the pitching staff is junior-college transfer Megan Dyer, a native of Lake Orion, Mich., and a transfer from Macomb (Mich.) CC. Dyer is in her second year at Point Park although she had to sit out last year due to injury. In her last year at Macomb, she was 21-14 with a 2.81 ERA in 229 innings pitched as a sophomore in 2012. She racked up 191 strikeouts and 83 walks that year.
The other newcomer to the pitching staff is freshman Michaela Lewis-Lambert, a freshman from Elkins, W.Va. She was a second-team all-state player at Elkins High School.
Although she will mainly be an infielder, junior-college transfer Karen Mao can pitch as well. She won seven games and had a 4.97 ERA in 136.2 innings pitched last year at Clarendon College.
Coach Coultas views the pitching staff as a group effort, one in which each of the top arms will contribute in their own way be it as starters or relievers.
"I am comfortable with all of our top four pitchers," Coultas said. "They are all able to come in as starters or relievers. They all give a little bit of a different look, and they work well together and pick one another up.
"There may be times where were used 4-5 pitchers in a doubleheader, which is something that we are okay doing. Whatever it will take to get the wins."
For updates on the Pioneers, following the Point Park athletics website throughout the season. Watch Live on the Point Park Sports Network with live streaming video of most home games. Check on line for complete broadcast listings.
Follow the Pioneers on Twitter @PointParkSports and @PPUsoftball