Point Park softball takes two from Carlow to clinch 2nd place in KIAC
April 29, 2014 at 2:00 p.m. ET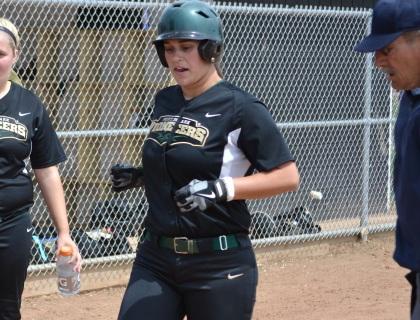 Ashley Morran hit a grand slam in Game 1 and a two-run homer to end Game 2.
By Zachary Weiss, Point Park Athletic Communications Student Assistant
Kennedy Twp. Pa -- The Point Park University softball team swept a double header against Carlow 9-1 and 12-3 Monday. In doing so, the Pioneers have earned the second seed in the KIAC Tournament at 26-15 overall and 19-8 KIAC.
Carlow (19-18, 12-16 KIAC) scored first in game one against Megan Dyer in a Kenzie Young RBI single however Point Park used a seven run second inning to take control.
In the inning there were 12 at-bats and Ashley Morran hit a grand slam which served as her 10th homer of the season. Point Park scored two more runs in the fourth inning.
Dyer picked up her ninth win of the season which leads the team.
Carlow led game two 2-0 heading to the bottom of the third inning. Point Park would recover to score five runs in the inning.
Alyssa McMurtrie started the inning with a triple and the big hit of the frame was Nikki Eagan homer, her first of the season.
An additional three runs were scored in the fourth inning as LeAnne Blaeser, Gabi Vogt and Morran scored.
Kate Reese started the game and pitched four innings allowing three runs earning her fifth win of the season.
Hannah Harley came on in relief and threw a nine pitch scoreless fifth inning.
Point Park would earn its second consecutive mercy rule when Blaeser connected for her second home run of the season. Vogt doubled and advanced to third on a wild pitch. Morran would end the game with a walk off home run.
This sweep came after the Pioneers took two of three from Asbury. In game one Asbury won 9-1 with Summer Ratliff getting the win and Harley taking the loss. Point Park scored its run in the seventh inning.
Down 9-1 after three innings, Point Park came back to defeat the Eagles 10-9 in game two. The game included homers from Blaeser (her first), McMurtrie (her fourth) and Morran (her ninth). Dyer got the start however it was Sarah Urchek who got the win in relief going the final four innings scoreless.
Game three went to Point Park via the mercy rule as it won 11-1. Reese got the win pitching five innings.
Next up for Point Park is the KIAC Tournament which will be played at Berea College Friday and Saturday.
Follow the Pioneers on Twitter @PointParkSports. For in-game updates follow @PPUsoftball