@PPUsoftball opens season with win over Mich.-Dearborn, loss to Davenport
March 2, 2014 at 10:00 a.m.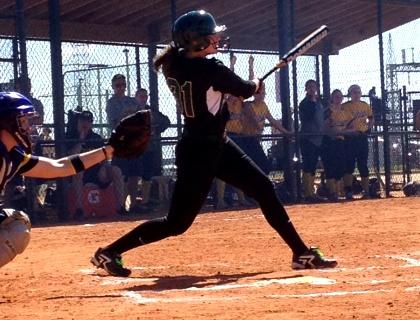 Natalie Zivic stroked a double in the 4-2 win over Michigan-Dearborn. Photo by Lauren Jones.
CLERMONT, Fla. -- Point Park softball opened its 2014 season on Saturday, March 1 and split two games on Day 1 of its annual spring trip to Florida. The Pioneers (1-1) beat Michigan-Dearborn, 4-2, and lost to Davenport (Mich.), 8-0, in five innings in their first of 10 games at the Dot Richardson National Training Center Spring Games.
Junior pitcher Kate Reese (1-0)  threw a complete game in the victory over Michigan-Dearborn (1-5). The Pioneers scored three runs in the top of the first as leadoff batter Alyssa McMurtrie singled and Ashley Morran and Natalie Zivic both doubled later in the inning.
Davenport (11-2), which is receiving votes in the NAIA Top 25 Poll, put the eight-run mercy rule into effect with a combined seven runs over the fourth and fifth innings. Point Park Game 2 starter Hannah Harley (0-1) went 4.1 innings but didn't get into trouble until giving up a two-run homer in the fourth.
Point Park's Florida stay continues Sunday NAIA matchups versus Grace (Ind.) and Hannibal-LaGrange at 11 a.m. and 1 p.m., respectively.
Follow the Pioneers on Twitter @PointParkSports and @PPUsoftball