Point Park softball has rough day on the diamond with a pair of losses
March 2, 2014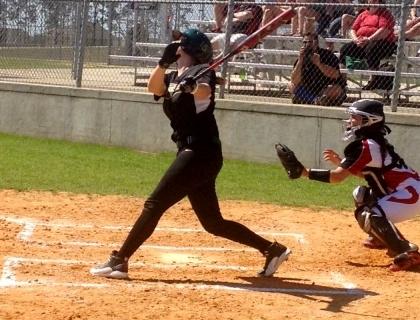 Ashley Morran pops out in the loss to Grace (Ind.) on Sunday. Photo by Lauren Jones.
CLERMONT, Fla. -- Point Park University softball had a rough day on the diamond on Sunday, March 2 as the Pioneers lost their first game of the day, 8-0, to Grace (Ind.) and then lost to Hannibal-LaGrange (Mo.), 5-3.
It was the second day of a week-long trip for the Pioneers (1-3) at the Dot Richardson National Training Center Spring Games in Clermont, Fla. The Pioneers play a JV doubleheader versus Walsh JV on Monday and don't have a varsity game until Wednesday at 3 p.m.
Point Park had base runners on in every inning of the opening loss to Grace. But the Pioneers were shut out for the second straight game by leaving nine runners on base. Grace extended its 3-0 lead with three runs in the fifth and two more in the sixth to put the eight-run rule into effect. 
Down to their last three outs, the Pioneers got a one-out single from Brea Magnone, who was 2 for 3, but a double play ended the game. Point Park totaled five hits in support of starting pitcher Kate Reese, who went 5.1 innings.
The 5-3 loss to Hannibal-LaGrange included nine errors by the Pioneers. All five of HLGU's runs were unearned, and they got four of them in a second inning as Point Park made five errors in the frame.
Point Park cut the deficit to 4-3 with three runs in the third with Ashley Morran delivering a double and LeAnne Blaeser and Karen Mao each contributing a base hit to the rally.
After HLGU added another unearned run in the fourth, Point Park had the bases loaded with one out in the fifth. But a 1-2-3 double play ended the threat. The Pioneers got the tying on base in the seventh but lost by two.
Point Park starter Sarah Urchek was saddled with the loss although she did well to keep the Pioneers within a run or two despite the nine fielding errors behind her. She struck out two, walked just one and scatted five hits over a complete game of six innings.