Point Park softball settles for split at Pitt-Greensburg: W, 3-0; L, 5-4
March 19, 2014 at 11:00 p.m. ET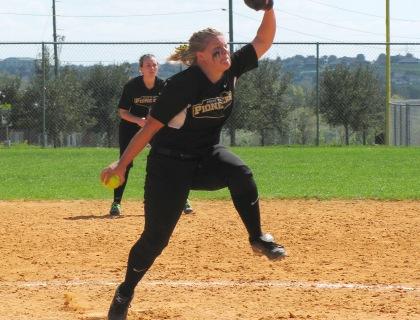 Sarah Urchek got the win in three innings of relief in Game 1. Photo by Lauren Jones.
GREENSBURG, Pa. -- Starter Kate Reese and reliever Sarah Urchek combined on a shutout as Point Park University softball beat Pitt-Greensburg, 3-0, the first game of a non-conference doubleheader on Wednesday. But the Bobcats won the second game, 5-4, with Casey Hamilton hitting a three-run homer in the fourth to give the hosts the lead for good.
Urchek got the win in three innings of relief in Game 1 as Point Park (3-7) scored three runs in the sixth inning to break a scoreless tie. Urchek gave up only one hit in her outing, struck out four and walked none. Reese pitched the first four innings while giving up four hits and one walk.
Pitt-Greensburg (5-5) made two errors to start the top of the sixth, and Point Park made the Bobcats pay. LeAnne Blaeser then singled to load the bases, and Gabi Vogt followed with a two-run single to open the scoring. The next batter, Karen Mao, delivered an RBI single to make it 3-0.
In Game 2, Point Park took a 3-1 lead on Ashley Morran's three-run homer in the top of the fourth. But Pitt-Greensburg responded with Hamilton's three-run blast in the bottom of the inning to give the Bobcats a 4-3 lead.
Point Park cut the lead to 5-4 with Natalie Zivic's RBI base hit in the sixth, but winning pitcher Kara Barclay ended the threat by striking out the next two batters for two of her six punch outs. Barclay then retired the Pioneers in order in the seventh to finish off a complete game that scattered four hits.
Pitt-Greensburg had only four hits of its own, but a couple of them were big. Amanda Shephard's RBI double in the third and Hamilton's homer were two of the four hits given up by Point Park starter Hannah Harley, who took the loss in four innings. She struck out six and walked one.
Point Park begins KIAC play with a four-game series at Berea (Ky.) this weekend with two games each on Saturday and Sunday. The Pioneers were picked to finish second in the KIAC preseason poll, and Berea (Ky.) eliminated Point Park in the KIAC Tournament semifinals last year.
Follow the Pioneers on Twitter @PointParkSports and @PPUSoftball