Point Park softball opens KIAC play with doubleheader split at Berea (Ky.)
March 22, 2014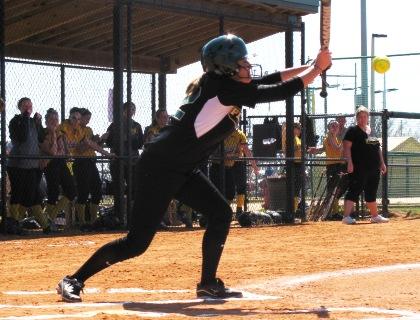 LeAnne Blaeser was 4 for 5 in the win at Berea (Ky.) on Saturday. Photo by Lauren Jones.
By Zachary Weiss, Point Park Athletic Communications Student Assistant

BEREA, Ky. -- The Point Park University softball team split its KIAC doubleheader at Berea (Ky.) College Saturday afternoon losing the first game, 4-1, and winning the second, 15-3.

Berea(3-9, 1-5 KIAC), which eliminated Point Park (4-8, 1-1 KIAC) in the KIAC Tournament semifinals last season, won the first game behind a four run sixth inning.
The Mountaineers had three consecutive runners reach base ending with a Kari Kviten RBI single. The other three runs came on a Katelyn Blair sacrifice fly, a Sarah Haycraft double and a Courtney Sartin single.

Point Park scored its run in the sixth inning when an Ashley Morran single scored Alyssa McMurtrie, who had started the inning with a walk.

Sarah Urchek took the loss, her first of the season. Kate Reese started and threw five innings allowing no runs on three hits. The Pioneers' offense totaled five hits.

In the second game, Berea scored two runs in the bottom of the first as Allie Newton and Kviten both scored against Megan Dyer.
Point Park responded with a five run second inning. Morran hit the first of three consecutive singles, with the last from Teresa Davis scoring a run. The Pioneers batted around in the inning with 11 batters sent to the plate.

Point Park added a sixth run in the fourth inning. McMurtrie led off the inning with a double. LeAnne Blaeser advanced her with a single and Gabi Vogt had a sacrifice fly.

The Pioneers added an additional four runs in the fifth on six consecutive singles. McMurtrie, Blaeser and Vogt all had an RBI in the inning. Berea countered with a Stovall sacrifice fly in the bottom half of the fifth inning to plate Newton and cut the deficit to 10-3.

Point Park was not  done scoring against Berea. The Pioneers had a five-run seventh inning batting around once again. In the inning, there were three bases on balls and one batter was hit by a pitch.

Urchek pitched the last two innings holding the Mountaineers to one hit. Dyer threw five innings to earn her second win of the season.
The Point Park offense had 18 hits with Blaeser going 4 for 5 with two RBIs. Davis was 3 for 5 with three runs and three RBIs. Picking up two hits each were McMurtrie, Morran and Karen Mao.

 These two teams will meet once again for a doubleheader Sunday at 1 p.m. ET.

 Follow the Pioneers on Twitter @PointParkSports