Point Park wins doubleheader at Berea (Ky.), takes 3 of 4 in weekend series
March 23, 2014 at 11:45 p.m. ET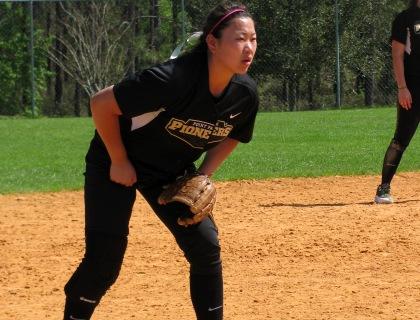 Karen Mao was 4 for 8 with 5 RBIs in the doubleheader sweep at Berea (Ky.) on Sunday. Photo by Lauren Jones.
By Zachary Weiss, Point Park Athletic Communications Student Assistant

BEREA, Ky. -- The Point Park University softball team took three of four games in its weekend series at Berea (Ky.) College after sweeping Sunday's doubleheader 4-0 and 13-4.

The Pioneers (6-8, 3-1 KIAC) got a complete-game two-hitter from Megan Dyer in the first game, her third victory of the season. Dyer shut out Berea (3-11, 1-7 KIAC) with four strikeouts and no walks.

Alyssa McMurtrie had a lead-off double to start the game and scored two batters later when Gabi Vogt had an RBI groundout.

The Pioneers plated another two runs in the third inning as Kate Reese and right fielder Abby Mathieu each scored. Vogt had another RBI in the inning.

 McMurtrie scored the fourth and final run in the seventh inning as Karen Mao's single scored her.

In game number two, the Pioneers scored twice in the first inning. Mao had an RBI single, which plated McMurtrie and LeAnne Blaeser. Berea countered with a Mercedes Stanfield sacrifice fly, which scored Allie Newton to make the score 2-1.

Point Park scored three runs in the third after Ashley Morran's single scored Vogt and Natalie Zivic's single scored both Mao and Morran. Not to be outdone, the Mountaineers got within 5-2 on Kari Kviten's home run in the bottom of the third.

Both teams scored two runs in the fourth inning with McMurtrie and Vogt scoring again for the Pioneers. Morgan McClure and Kirstin Anderson scored for Berea.

Point Park broke the game open with  six runs in the fifth inning to set into affect the mercy rule. Mao started things by reaching base via an error. She was on base in each of her four plate appearances. Mao, Morran, Teresa Davis, Becca Babincak, McMurtrie and Blaeser all scored. There were six hits and two errors in the inning.
McMurtrie was 2 for 3 with three runs, and Blaeser went 3 for 4 with two runs. Vogt, Mao and Morran each totaled two hits and two runs, and Zivic collected two hits.

Sarah Urchek got the start in game two and pitched the first four innings. She earned her second win of the season. Urchek pitched in three of the four games on the weekend. Reese pitched the fifth and final inning.

 Point Park will play six games this coming week with the first two on the road Tuesday at Malone  (Ohio) at 3 p.m. (DH).

 Follow the Pioneers on Twitter @PointParkSports