Point Park extends win streak to five with home sweep of Malone, 4-3 and 1-0
March 27, 2014 at 11:59 p.m. ET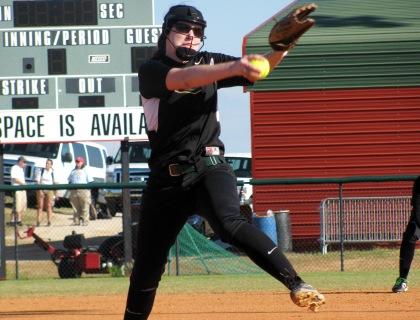 Hannah Harley threw six scoreless innings to lead Point Park to a 1-0 win in Game 2. Photo by Lauren Jones.
By Zachary Weiss, Point Park Athletic Communications Student Assistant

KENNEDY TWP., Pa. -- The Point Park University softball team extended its winning streak to five with 4-3 and 1-0 wins against Malone University in a non-conference doubleheader at Fairhaven Park on Thursday.

The Pioneers improved to 8-8 (3-1 KIAC) following a 3-7 start. Thursday's games were the home openers for Point Park, which played its first 14 games away from home.

In the first game, Point Park starting pitcher Megan Dyer (3-1) got her third win in a row after pitching all seven innings. She struck out eight and walked eight and got a rally from her offense in the late innings.
Malone (8-6-1) struck first in the second inning when second baseman Desi Hengoed hit a solo home run. Malone added a run in the sixth when Alison Mercado walked and scored on Katie Snoddy's double for a 2-0 lead.

Point Park's offense scored two runs in the bottom half of the sixth inning when Karen Mao hit a two-run homer to tie the score at 2-2. This scored Gabi Vogt, who reached on a fielder's choice.
Malone retook the lead in the seventh inning when Hengoed walked and scored on Erika Gerber's base hit. The walk to Hegoed was the second of the inning and put the go-ahead run in scoring position. Malone threatened to add on even more but had a runner thrown out trying to steal third.
Trailing 3-2, Point Park got a double by Teresa Davis and a single by Kate Reese to put two runners on with one out in the bottom of the seventh. That's when Alyssa McMurtrie came through with a walk-off, two-run triple to end the game for the 4-3 win.
Davis was 3 for 3 with two doubles, and McMurtrie was 2 for 3 with two RBIs. Point Park had seven hits, including Mao's homer, which went for two RBIs.

Point Park's Hannah Harley got the start in Game 2 and got the victory in six scoreless innings to improve to 2-2 on the season. She got out of trouble in the first inning after stranding runners on first and third base after a fly out.

Point Park scored its run in the third  inning when Mao's double brought in Ashley Morran, who was 3 for 3 with a double.

Reese pitched a scoreless seventh to pick up the save and keep the shutout in tact. She allowed two runners to reach base however neither scored. A leadoff double and a groundout put the tying run at third, but when Reese induced a grounder by the next batter, the Pioneers cut down the runner at third in a run down. The next hitter bounced to short to end the game.

Point Park will play four weekend games on the road against KIAC opponent Midway (Ky.). The Pioneers will play doubleheaders Saturday at 2 p.m. and Sunday at 12 p.m.

Follow the Pioneers on Twitter @PointParkSports