Point Park wins first two games at Midway (Ky.), ups win streak to seven
March 30, 2014 at 10:00 p.m. ET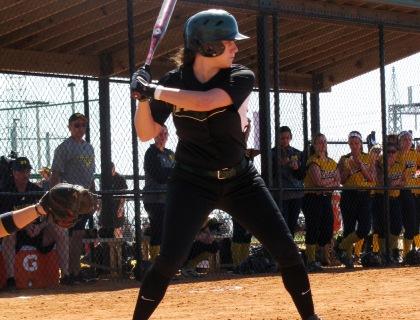 Ashley Morran hit two home runs in the doubleheader at Midway (Ky.) on Sunday. Photo by Lauren Jones.
By Zachary Weiss, Point Park Athletic Communications Student Assistant

MIDWAY, Ky. -- The Point Park University softball team swept Midway (Ky.) College in a KIAC doubleheader, 6-0 and 7-3, on Sunday to extend its winning streak to seven games.

The Pioneers are 10-8 overall and 5-1 KIAC, which is good for second place in the conference. The four-game series at Midway (Ky.) (5-15, 3-5 KIAC) concludes on Monday with a doubleheader at 10 a.m.

In Game 1 on Sunday, Point Park's Megan Dyer pitched her third complete game of the season winning a team-best fourth game of the season. She has won her last four starts as part of the seven-game win streak. Dyer gave up six hits, struck out five and walked two.
In the bottom of the first, Dyer allowed two hits and a walk but finished the inning without allowing a run.
 
The second inning featured a solo homer from Point Park's Ashley Morran, her fourth of the season. Point Park tacked on another run in the third when Alyssa McMurtrie singled and stole a base. LeAnn Blaeser then singled to score McMurtrie.

Point Park built the lead to 5-0 with three runs in the fourth. Karen Mao's single, Morran's walk and Natalie Zivic's sacrifice bunt put runners in scoring position, and two runs scored when Teresa Davis reached on an outfield error. Abby Mathieu followed two batters later with an RBI single.
Morran hit her fifth homer of the year in the top of the first of Game 2, a three-run shot that scored McMutrie and Gabi Vogt.
 
The Pioneers' offense struck again in the second inning when McMurtrie's triple scored Brea Magnone and Abby Mathieu, who had both singled.
Nikki Eagan got the start at catcher in Game 2 and delivered a two run double to score Morran and Zivic to extend the lead to 7-1 lead in the third.
Midway cut the lead to 7-3 with two runs in the fifth inning when Powell and Gabrielle Bruner scored. This was because of RBI singles from Holt and Addison Murphy.

Point Park's Kate Reese started and got the win in five innings, her second on the season. She gave up six hits and only one of the three runs charged to her was earned. Sarah Urchek pitched the final two innings to earn her first save of the year. She did not allow a hit and struck out two batters.

Follow the Pioneers on Twitter @PointParkSports. For in-game updates, follow @PPUsoftball.