Point Park completes KIAC softball sweep at Midway with 7-3 and 6-0 wins
March 31, 2014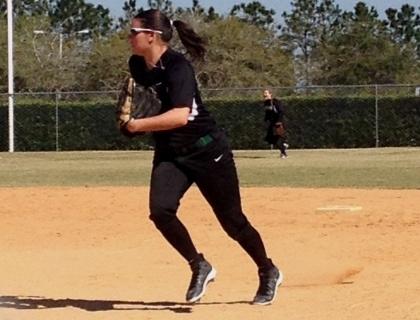 Ashley Morran was 5 for 7 in Monday's victories at Midway (Ky.). Photo by Lauren Jones.
By Zachary Weiss, Point Park Athletic Communications Student Assistant

MIDWAY, Ky. -- The Point Park University softball team won all four games at Midway (Ky.) College on Sunday and Monday to extend its winning streak to nine games.

Point Park (12-8, 7-1 KIAC) beat Midway (Ky.) by scores of 7-3 and 6-0 on Monday, the same margins of victory as Sunday's wins. The Pioneers are now tied with IU Southeast for first place in the KIAC.
In Game 1, Point Park totaled 11 hits to back winning pitcher Hannah Harley, who gave up only two earned runs in six innings. In Game 2, Megan Dyer shut out Midway (5-17, 3-7 KIAC) on four hits in a complete game.

Midway struck first in Game 1 when Gabrielle Bruner scored on an Addison Murphy ground out. But Point Park scored the next seven runs to build a 7-1 lead.

The Pioneers scored two runs in the second inning when LeAnn Blaeser batted in Abby Mathieu and Alyssa McMurtrie. Blaeser was 3 for 5 with two doubles and two RBIs.
The Pioneers added two more runs the next inning when Natalie Zivic doubled to score Ashley Morran. Zivic would score when Mathieu singled. Morran finished 3 for 3, and Mathieu was 2 for 4.

Point Park scored three runs in the fourth inning with the big hit being a two-run single by Teresa Davis to go up 7-1.

Midway responded with a run in the fifth inning when Bruner scored on a Lacey Holt double. Brittany Kendall scored in the sixth inning, which was the last run for either team.

Harley got the start and pitched six innings to earn her third win of the season. Sarah Urchek pitched the final inning.

Dyer pitched a complete game shutout in Game 2, her third of the season, and fifth victory. Dyer struck out six, walked none and won her fifth start in a row. The four Point Park pitchers now have combined ERA of 2.76.

Point Park plated two in the second inning as Zivic tripled home Morran, and Davis singled in the Zivic. Another run scored in the fourth when Brea Magnone grounded out to score Davis, who had tripled.
The final three runs scored in the fifth inning as Becca Babincak, McMurtrie and Morran scored. The inning started with back-to-back singles from Babincak and McMurtrie. Later in the inning, Morran delivered an RBI single, and Zivic smashed an RBI double.

Point Park next plays Wednesday at Penn State- Fayette. The first game is set to begin at 5:30.


Follow the Pioneers on Twitter @PointParkSports and for in game updates follow @PPUsoftball.