Point Park wins 1 of 2 versus Brescia (Ky.) to begin KIAC softball series
April 5, 2014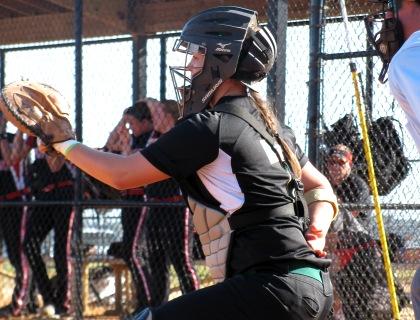 Nikki Eagan had two hits in each game versus Brescia (Ky.) on Saturday. Photo by Lauren Jones.
By Zachary Weiss,  Point Park Athletic Communications

KENNEDY TWP., Pa. -- Point Park University softball saw its nine game winning streak come to an end but regrouped to split the opening two games against KIAC opponent Brescia (Ky.) University on Saturday at Lind Field at Fairhaven Park.

Point Park (13-9, 8-2 KIAC) lost the first game, 9-5, but came back strong to win the nightcap, 9-1. Point Park and Brescia (14-7, 14-6 KIAC) play two more games on Sunday beginning at 11 a.m. at Fairhaven Park.
Point Park is in second place in the KIAC behind IU Southeast (9-1 KIAC) by one game and ahead of third-place Brescia by percentage points.

In the first game,  Brescia had 13 hits and built a 7-3 lead before Point Park's Teresa Davis hit a two-run homer to get the Pioneers within 7-5 in the bottom of the fifth. But Brescia, which has the top offensive in the KIAC, hit its second homer of the game, a two-run shot by Allie Michel in the sixth to extend the lead to 9-5.
Teresa Davis was responsible for three of the team's five runs which included her first home run of the season. She also brought home a run when she reached on an error in the second has Point Park seized an early, 2-0, lead after two. 
Ashley Morran also scored two runs while Gabi Vogt scored the fifth run when Morran batted her in. Vogt, Morran, Karen Mao and Nikki Eagan each had two hits. Point Park had 11 total hits in the game but left 10 runners on base.

Point Park starter Megan Dyer (5-2) suffered her second loss of the season allowing seven runs in five innings. She struck out two, walked two and hit two batters after winning her previous five starts. Sarah Urchek pitched the final two innings of the game.

Stacey Harbold pitched a complete game for Brescia earning her eighth victory. Harbold helped her own cause with a home run.

In Game 2, Point Park won, 9-1, behind a complete-game two hitter from Hannah Harley (4-2). It was Harley's fourth win of the season and fourth in a row for the sophomore from Indiana, Pa.

The Pioneers scored one run in the second inning followed by two runs each in the third, fourth, fifth and sixth innings. A big hit was Alyssa McMurtrie's second home run of the season – a two-run shot in the fourth that made the score 5-1 and sent the Pioneers on their way to the win.
The middle of the order once again did damage with Mao and Morran each going 3 for 4 with two doubles. Nikki Eagan, McMurtrie and LeAnne Blaeser each had two hits as the No. 9, No. 1 and No. 2 hitters in the lineup.

 In total, Point Park had 26 hits on the day compared to 15 for Brescia.
 
 Follow the Pioneers on Twitter @PointParkSports and for in-game updates follow @PPUsoftball