Point Park takes two from Carlow in KIAC home doubleheader, 9-4, 11-0 (5)
April 8, 2014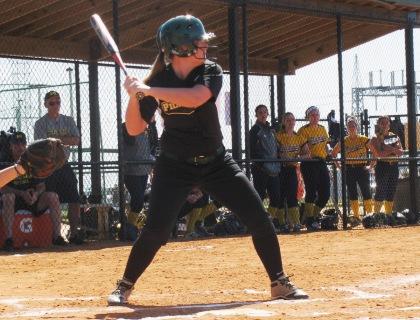 Gabi Vogt and the Pioneers are 15-11 overall, 10-4 KIAC. Photo by Lauren Jones.
By Zachary Weiss, Point Park Athletic Communications Student Assistant

KENNEDY TWP., Pa -- The Point Park University softball team swept a double header against Carlow 9-4 and 11-0 Tuesday at Fairhaven Park to improve to 15-11 overall and 10-4 KIAC while Carlow has a record of 10-14 and 5-13 KIAC.

Carlow scored the first run of game one when pitcher Emily Pritts hit a solo home run, however Point Park responded with eight runs between the second and third innings. Highlights included a triple from Teresa Davis, a two RBI triple from Alyssa McMurtrie and 11 total base runners.

Hannah Harley started the game going five innings for Point Park. She allowed single runs in the fourth on a Haley Havrilla double and fifth on a Nicole George hit.

Sarah Urchek pitched the sixth inning allowing a run and loading the bases, however she struck out Havrilla on three pitches to end the threat.

In the bottom half of the inning, Ashley Morran provided an insurance run with her sixth home run of the season - a solo shot.

Urchek did not allow a run in the final inning.

In game two Karen Mao's double gave Point Park an early lead. Mao would go 3-3 with three RBI, two doubles and a triple. Gabi Vogt also was a key part of the offense going 3-3 with two doubles and four RBI.

In addition, Brea Magnone had two hits. Becca Babincak added five while scoring five runs in the double header.

The Pioneers plated four runs in the second and third and two in the fourth. This was in support of Megan Dyer who allowed two hits in the game. The game ended after five innings by mercy rule.

Point Park will next play four games at IU Southeast this weekend.