Point Park softball wins 1 of 2 at first-place IU Southeast: W, 9-3, L, 3-2
April 11, 2014 at 10:55 p.m. ET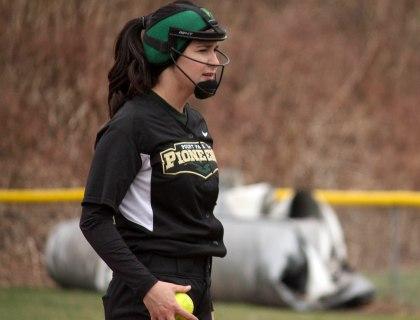 Hannah Harley got the win in a complete game in Game 1, a 9-3 victory. Photo by Sam Robinson.
By Zachary Weiss, Point Park Athletic Communications Student Assistant

NEW ALBANY, Ind. --The Point Park University softball team earned a split against KIAC preseason favorite Indiana University Southeast Friday winning the first game, 9-3, and losing the second game, 3-2.

Point Park (16-12, 11-5 KAC) won the opener behind Hannah Harley, who threw a complete game to earn the win - her sixth win of the season. Harley scatterred eight hits, struck out six, walked one and only two of the three runs she gave up were earned.

The Pioneers scored their first run on a Karen Mao sacrifice fly while IU Southeast (23-10, 13-3 KIAC) took a 2-1 first inning lead on a Jordan Batliner two run homer.

Ultimately Point Park used a six-run second inning to pull away. The inning had seven runs and three errors. Mao, Teresa Davis, Nikki Eagan and Gabi Vogt all had RBIs in the outburst.

The Pioneers tacked on two more runs in the third inning when LeAnne Blaeser was hit by a pitch, and Vogt singled.  The Grenadiers added a run by an error in the seventh inning.
IU Southeast won the second game, 3-2, although Point Park was ahead, 2-1, on Ashley Morran's two-run homer in the fourth, one of only three hits for the Pioneers in the game.
The Grenadiers scored runs in the second and fourth innings. Shelby Lucas had the go-ahead, RBI double in the fourth inning. Summer Sanders drove in the two earlier runs.
Megan Dyer started Game 2 for Point Park and took the loss in four innings. She gave up three runs (two earned) on four hits, four strikeouts and two walks.

 The teams will play another doubleheader Saturday starting at 1 p.m. IU Southeast remains in first place in the KIAC at 13-3, and Point Park is two games back in third place at 11-5 KIAC. Follow Live Stats of Saturday's games: Live Stats

 Follow the Pioneers on Twitter @PointParkSports and @PPUsoftball