Point Park softball drops two close games at first-place IU Southeast, 4-3, 2-0
April 12, 2014 at 11:40 p.m. ET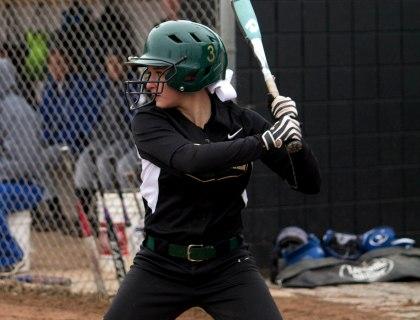 Alyssa McMurtrie had an RBI single and scored in a run in Game 1 Saturday. Photo by Sam Robinson.
By Zachary Weiss, Point Park Athletic Communications Student Assistant

NEW ALBANY, Ind. --The Point Park University softball team lost both games against KIAC opponent Indiana University Southeast Saturday.

Point Park (16-14, 11-7 KIAC) dropped the contests 4-3 and 2-0 to first-place IU Southeast (25-10, 15-3). The Pioneers lost three of four games in the weekend, road series to remain in third place in the KIAC, four games behind IU Southeast.

In Game 1, the Grenadiers scored a run in the second, however, it was Point Park that took the lead with a three-run fifth inning. Alyssa McMurtrie's single scored Teresa Davis while Gabi Vogt's double plated Nikki Eagan and McMurtrie.

IU Southeast would immediately respond with a three-run bottom half of the inning. Jordan Batliner's double scored the go-ahead and ultimately the winning run in the contest.

Sarah Urchek was charged with all four runs and took the loss as the Point Park starter. Hannah Harley pitched the last inning and a third.

The Pioneers' bats were held to two hits in game two with Natalie Zivic singling in the fifth inning and Becca Babincak opening the sixth inning with a single.
That's all the offense Point Park got versus Jessica Lenhart, who shutout Point Park with four strikeouts, four walks and two hits in seven innings. It was the second day in a row that Lenhard shut down the Point Park bats.
IU Southeast scored single runs in the first and third inning. Megan Dyer took the loss in a complete game with one strikeout, no walks and six hits.
Two errors and a double allowed IU Southeast to take a 1-0 lead in the first. Two singles, a sacrifice bunt and a groundout scored the Grenadiers other run in the third.

Point Park's next game is home versus WV Tech on Wednesday at 3 p.m. (DH).

 Follow the Pioneers on Twitter @PointParkSports. For in-game updates follow @PPUsoftball