Point Park wins both games versus non-conference WVU Tech at home
April 17, 2014 at 12:30 a.m. ET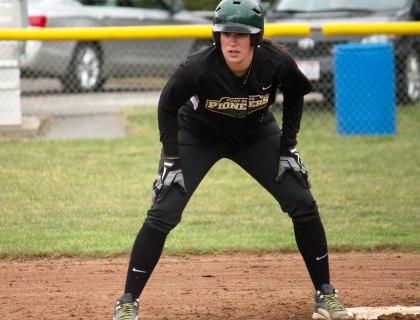 Ashley Morran hit a three-run homer to end Game 2 due to the mercy rule, 9-1. Photo by Sam Robinson.
By Zachary Weiss, Point Park Athletic Communications Student Assistant

KENNEDY TWP., Pa.--The Point Park University softball team swept a doubleheader against visiting West Virginia Tech Wednesday at Fairhaven Park.
The Pioneers (18-14, 11-7 KIAC) won the first game, 4-1, as Hannah Harley pitched a complete-game five-hitter against West Virginia Tech (5-18). Point Park won the second game, 9-1, in six innings powered by a two-run homer from Alyssa McMurtrie and a game-ending, three-run homer by Ashley Morran, which enacted the mercy rule.

West Virginia Tech took an early lead in Game 1 by scoring RBI double by Megan Blythe in the top of the first. Point Park countered with a Nikki Eagan RBI single in the second inning.

Point Park scored the winning runs in the fourth inning when Audrey Eisentrout hit her first home run of the season. It was also the first of her Pioneers career and scored Eagan.

An additional run was obtained in the fifth inning on Karen Mao's sacrifice fly. Alyssa McMurtrie and Eagan led the team with two hits apiece.
Harley went the distance to get the win and improve to 7-2. She struck out four, walked one and shook off the early deficit after giving up two of the five hits against her in the first inning.

In Game 2, the Pioneers scored four runs in the first inning as the first four hitters each scored. The big hit was Morran's two run triple. She went 3 for 3 with a walk and fell a single short of the cycle.

In the second inning, Eisentrout reached base by error, and McMurtrie followed by hitting her third home run of the season. She reached base in three of her four at-bats.

The Golden Bears scored their lone run in the fourth inning when Ashley Boggs singled home Blythe. Point Park's Megan Dyer (7-5) got the victory in five innings of work. She scattered five hits, struck out four, walked none and gave up just the one run.

Point Park will next face KIAC opponent Alice Lloyd for four games with the first two starting Friday at 1 pm.

 Follow the Pioneers on Twitter @PointParkSports. For in-game updates follow @PPUsoftball