Point Park beats Alice Lloyd (Ky.) twice to start weekend home series
April 18, 2014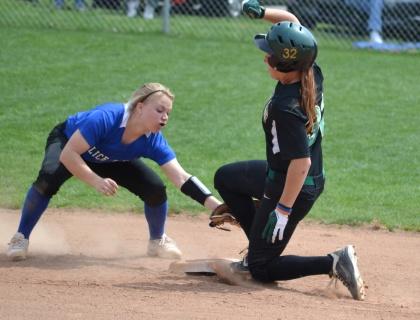 Teresa Davis stole second base during Point Park's 6-0 victory in Game 1.
By Zachary Weiss, Point Park Athletic Communications Student Assistant

KENNEDY TWP., Pa. --The Point Park University softball team swept a home doubleheader against Alice Lloyd (Ky.) College on Friday and clinched its fourth straight 20-win season by doing so.

Point Park (20-14, 13-7 KIAC) won game one, 6-0, and then took the second game, 5-3, over Alice Lloyd (0-20, 0-20 KIAC).
Megan Dyer got the start for Point Park in game one, and she picked up her eighth win of the season allowing six base runners and striking out six batters.

The Pioneers had a three-run first inning with LeAnn Blaeser, Gabi Vogt and Karen Mao each getting RBIs.

Blaeser would strike again in the second inning with a run-scoring double that scored Audrey Eisentrout. Blaeser went 3 for 4 in the game.

Two additional runs were scored in the fifth inning when Ashley Morran hit her ninth home run of the season, which also scored Blaeser, to make the score 6-0.

Point Park got off to a quick start once again in game two scoring two runs in both the first and second innings for an early, 4-0 lead. Nikki Eagan had a first-inning double that scored Alyssa McMurtrie and Morran. Mao added a two-run double that scored Haley Wisniewski and McMurtrie in the second.

Wisniewski rewarded head coach Michelle Coultas going 2 for 3 in her first collegiate start and her third-inning single brought home Brea Magnone, who reached base with a double.

Alice Lloyd scored two runs while nearly batting around in the third inning. Megan Boswell and Kaylin Korns hit back to back RBI singles to cut the Point Park lead to 4-2.

Sarah Urchek, who started the game, was replaced by Kate Reese in the fourth inning. Reese was making her first appearance since winning March 30 at Midway. After the first batter she faced singled, Reese started a double play and would get out of the inning with the score remaining 5-2.

Reese would allow a run in the fifth inning. Tailor Morgan singled and reached second base by error. She would ultimately score on a wild pitch. Reese would settle down and allow two base runners in the final two innings to secure the win.
 
Point Park and Alice Lloyd (Ky.) will play another doubleheader Saturday at 11 a.m.

Follow the Pioneers on Twitter @PointParkSports. For in-game updates follow @PPUsoftball