Point Park completes series sweep of Alice Lloyd (Ky.) in KIAC softball
April 20, 2014 at 7:45 a.m. ET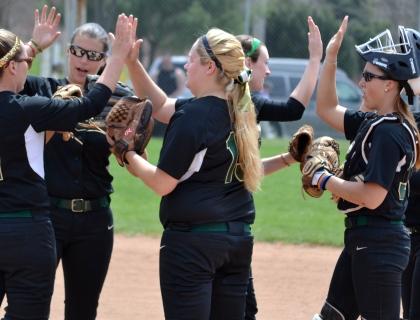 By Zachary Weiss Point Park Athletic Communications Student Assistant
Kennedy TWP. Pa.--The Point Park University softball team swept its doubleheader against Alice Lloyd (Ky.) College on Saturday to take all four games in the weekend series.

Point Park (22-14, 15-7 KIAC) won game one, 10-1, in five innings as pitcher Hannah Harley (8-2) earned her eighth win of the season. Michaela Lewis-Lambert pitched the last inning.

Teresa Davis went 3 for 3 with an RBI in the game while Becca Babincak was 3 for 4 with two RBI. Gabi Vogt and Karen Mao had two hits apiece.

Point Park had a five run first inning as Gabi Vogt (two), Davis and Natalie Zivic each had RBI.

The Pioneers had a three-run third inning as Nikki Eagan batted in a run. The big hit came when Audrey Eisentrout had a two-run homer, her second of the season.

Alice Lloyd (0-22, 0-22 KIAC) scored one run in the fourth inning as Tori Price connected for a home run. Despite the run, Becca Babincak would end things in the fifth inning with a walk-off, two-run home run, her second of the season.

Lewis-Lambert started game two in the circle for the first start of her career, and the Pioneers came up with a 7-3 win.

Although Alice Lloyd struck first on a Price RBI single in the top of the first, the Pioneers had two runs score in the bottom of the first inning. Point Park's 2-1 lead was built when Babincak singled and scored on an error. Later, Vogt singled and scored on Mao's sacrifice fly.
Alice Lloyd took a 3-2 lead in the top of the third when Megan Boswell drove in two runs with a shot to the left-center field fence. But again Point Park responded in the bottom half of the inning.

It was a three run bottom half of the third capped by Zivic's two-run single that gave the Pioneers a 5-3 lead. The bases were loaded when Zivic roped a single to left field to drive in two. The ball got by the Alice Lloyd outfielder, which allowed Ashley Morran to score all the way from first.
Point Park added two insurance runs in the fifth when Vogt's lead-off single was followed by an RBI double from Mao and an RBI single from Morran.

Lewis-Lambert got the victory in her first-career start, and Kate Reese pitched the final four innings to get the save. Reese allowed no runs on two hits.

Point Park next faces Carlow for a KIAC doubleheader on Tuesday. The Pioneers swept the previous two games versus Carlow, and these games will start at 3 p.m.

Follow the Pioneers on Twitter @PointParkSports. For in-game updates follow @PPUsoftball