Point Park softball games at Alice Lloyd College rescheduled for Sunday, Monday
March 12, 2015 3:15 p.m.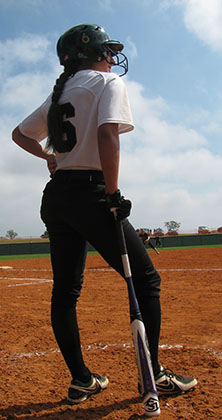 Photo by Lauren Jones

PITTSBURGH – Point Park University softball rescheduled its trip to Alice Lloyd College (Ky.) for Sunday, March 15 at 6 p.m. and Monday, March 16 at 12 p.m. The Pioneers were previously scheduled to play the four-game series March 13-14, but postponed the series two days due to inclement weather.
Last season, Point Park (3-5) swept a four-game series against Alice Lloyd at home. Senior pitcher Megan Dyer, who is out with an elbow injury, pitched the first game, a 6-0 shutout for the Pioneers. Karen Mao and Gabi Vogt collected a pair of RBIs in the win.
Pitchers Sarah Urchek and Kate Reese combined to stall the Eagles in game two, a 5-3 victory. Mao hit a two-run double, and Haley Wisniewski went 2 for 3 at the plate.
In the third game of the series, junior pitcher Hannah Harley starred in the 10-1 (5 inning) win. The Pioneers jumped on the board with five runs in the first inning. Senior Audrey Eisentrout nailed a two-run homer, and Vogt and Mao had two hits each. Becca Babincak was 3 for 4 with two RBIs and hit a walk-off, two-run home run to end the game.
Pitcher Michaela Lewis-Lambert started in the circle for the Pioneers' 7-3 win in the final game of the series. Senior Natalie Zivic hit a two-run single to stretch the Pioneers' lead to 5-3 in the bottom of the third. Point Park added insurance runs in the fifth when Vogt's lead-off single was followed by an RBI double from Mao. Reese picked up the save.
Follow the Pioneers on Twitter @PointParkSports and @PPUsoftball.