Junior Hannah Harley named KIAC Softball Pitcher of the Week

April 14, 2015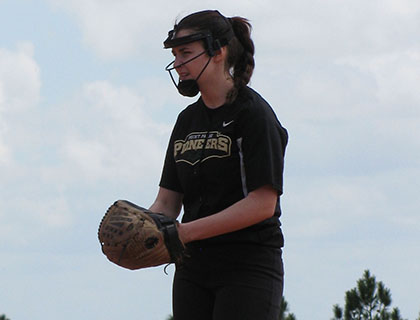 Photo by Lauren Jones
PITTSBURGH -- Point Park University junior Hannah Harley was named the KIAC softball pitcher of the week by KIAC officials on Monday, April 13.
Harley earned the win in both of her outings last week as the Pioneers finished the week 2-2. The junior pitcher threw a one-hit shutout in an 8-0 win against IU Southeast and finished the week with a complete game win against IU Southeast. Harley ranks third in the KIAC with a 3.21 earned run average and is third with 68 strikeouts.
The Pioneers are currently 22-14 overall and 17-7 in conference play. The Pioneers' April 15 doubleheader at West Virginia Tech was cancelled due to field conditions. They will now play a non-conference doubleheader at Waynesburg University with a 3:30 p.m. start.
Point Park returns to KIAC action on April 17 and 18 for a four-game home series against Midway.
Follow the Pioneers on Twitter @PointParkSports and @PPUSoftball.