Point Park softball completes four-game series sweep at Alice Lloyd (Ky.)
March 16, 2015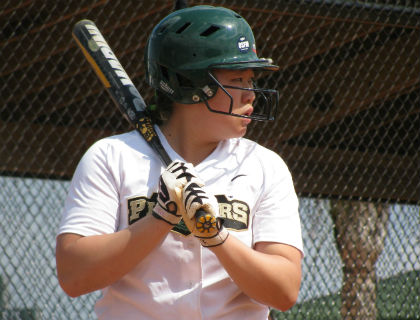 Karen Mao was 6 for 8 with 9 RBIs on the day to power the Pioneers past Alice Lloyd (Ky.).
Photo by Lauren Jones
PIPPA PASSES, Ky. – Point Park University softball completed a four-game series sweep against Alice Lloyd College (Ky.) with two wins today, 13-2 and 11-2.
Senior Karen Mao went 4 for 4 with three singles, a double and five RBIs to power the Pioneers to a victory in the first game. The Pioneers (7-5, 4-0 KIAC) scored 13 runs (11 earned) on 16 hits and four errors.
Sarah Urchek got the start on the mound for Point Park and scattered six hits over five innings of work, allowing only one walk and striking out four.
The Pioneers jumped on the board early when Becca Babincak and Gabi Vogt each got on base with a single, allowing Mao to hit them home with a two run double.
In the second inning, Audrey Eisentrout hit safely and advanced when Alyssa McMurtrie reached on an error by second base. Taylor Geary then knocked them both in with a double. Babincak singled and stole second to get into scoring position, setting up Mao once again for an RBI single to make the score 6-1.
Alice Lloyd (0-4 KIAC) scored its second run in the second inning when two hits and a hit batter loaded the bases after two were out. The Eagles pushed the run across due to an error. But 6-2 is as close as they would get. 
From there, the Pioneers stretched out the lead by scoring three runs with two outs in the third and four more runs in the fourth to make the score 13-2.
In the second game, Mao continued to pound the ball, going 2 for 4 with a single, double and four RBIs.
Winning pitcher Kate Reese held the Eagles to two runs (one earned) on three hits and two walks. Reese recorded no strikeouts, but forced Alice Lloyd into 11 groundouts over the five-inning complete game.
Point Park got right back to work in the top of the first with a lead-off single by Geary. Then Babincak singled and stole second. Three batters later, designated player Jess Beitler ripped a two-out single to score Geary and Babincak.
The inning continued with Shania James reaching on an error and stealing second. Another error allowed two more runs to score as the Pioneers were out to the 4-0 lead after one time at bat.
Alice Lloyd got some help from Point Park in getting a run back in the bottom of the inning. Price singled with two outs and advanced to third on a passed ball and wild pitch. She eventually came home on a throwing error.
Reese faced six batters over the next two innings and Point Park scored six runs to make the score 10-1 heading into the fourth inning.
Mao drove in both runs in the third with a two-run single. Mao's two-run double highlighted the four-run fourth, which also included sacrifice flies by Geary and Vogt.
Point Park heads to Malone Wednesday, March 18 for a 3 p.m. doubleheader.
Follow the Pioneers on Twitter @PointParkSports and @PPUsoftball.