Point Park softball splits conference DH with Brescia with 8-7 loss, 7-2 win
March 21, 2015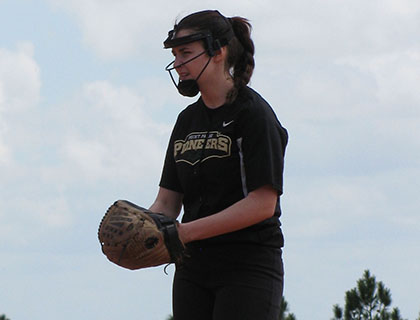 Hannah Harley pitched a complete second game, allowing two runs on three hits. Photo by Lauren Jones.

BOX SCORE 1
BOX SCORE 2

OWENSBORO, Ky. – Point Park University softball split the first two games in a four-game KIAC conference series with Brescia University Friday, dropping the first game 8-7 and winning 7-2 in the nightcap.
After an almost two hour rain delay, Brescia (5-3, 5-1 KIAC) jumped on the board first, scoring two runs in the first inning of game one.
After allowing a triple, Point Park pitcher Kate Reese found her flow and a groundout and strikeout ended the inning. 
Reese (4-4) pitched a complete game, recording two strikeouts and allowing eight runs on 11 hits.
A single, two doubles and a two-run home run in the bottom of the sixth stretched Brescia's lead to 8-3. Undeterred, the Pioneers (9-7, 5-1 KIAC) battled back in their final at bat.
Becca Babincak singled and advanced on a fielder's choice, and scored when Karen Mao reached on a fielding error.
Jess Beitler reached on a fielder's choice, and sophomore Alyssa McMurtrie brought them in with a two-out, three-run home run over the center field fence, making the score 8-7. A walk and a strikeout ended the game for the Pioneers before they could score again.
Babincak, McMurtrie and Nikki Eagan all went 2 for 4 in the effort.
In game two, Pioneers pitcher Hannah Harley (3-0) kept the Bearcats offense in check, allowing only two runs (one earned) on three hits and recording seven strikeouts in a complete game.
Although Brescia struck first, Point Park scored four runs in the third to make the score 4-1.
A walk and a single set up Vogt for an RBI single. Mao followed with a two-run single, and with two outs Natalie Zivic hit Mao in with a single.
Point Park added three more insurance runs in the sixth. A walk and a single set up Babincak for a three-run home run to extend the lead to 7-1.
The Bearcats scored again in the bottom of the sixth with a two-out solo home run.
Point Park completes the four-game series today at Brescia. Game one begins at 11 a.m.
Follow the Pioneers on Twitter @PointParkSports and @PPUsoftball.