Point Park softball splits non-conference doubleheader with Malone
March 18, 2015 9:05 p.m.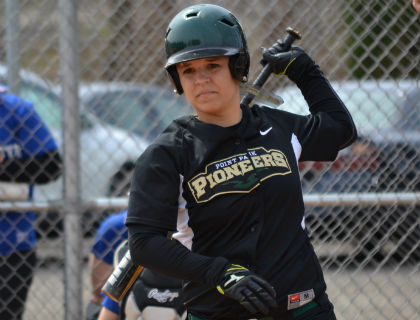 Senior Nikki Eagan went 3 for 4 and hit a home run in game one.
CANTON, Ohio -- Point Park University softball split a non-conference matchup with Malone University, winning game one 10-1 in six innings and falling 11-10 in game two.
Six of Point Park's runs scored in the sixth inning. Point Park (8-6, 4-0 KIAC) was up 4-1 heading into the sixth when Geary led the charge with a solo homer over the center field fence.
A single and a walk set Karen Mao up for a three-run home run to right field. Malone sent in a new pitcher, but Point Park continued the onslaught. Haley Wisniewski went in as a pinch runner for Jess Beitler after Beitler singled.
Wisniewski advanced on a sac bunt by Natalie Zivic, and Nikki Eagan brought her in with a home run – her first of the year – to make the score 10-1.
Malone could not answer in the bottom of the sixth, and pitcher Kate Reese retired three in a row with a fly out and two ground outs to end the game in six innings.
Reese (4-3) went the distance with three strikeouts, one walk and seven hits.
Becca Babincak and Eagan were 3 for 4 and Beitler was 3 for 3 contributing to Point Park's 15 hits.
In game two, Point Park jumped out to an early lead, but fell to Malone 11-10.
Two singles set Babincak up for a three-run home run with two outs in the top of the second, making the score 5-0.
Malone struck back in the bottom of the fourth, scoring six unearned runs before Sarah Urcheck came in to pitch for starter Hannah Harley. With two outs, Malone scored four more runs (three earned) to make the score 10-5 on eight hits and two errors.
Harley (2-0) allowed seven runs on nine hits and struck out three. Urchek (1-1) took the loss for Point Park, allowing four runs on five hits and recording a walk and a strikeout.
Point Park scored two runs in the top of the fifth and two in the top of the sixth to tie the score at 10-10 heading into the bottom of the inning. Malone scored an unearned run to make the score 11-10, and Point Park could not answer in the top of the seventh.
Point Park travels to Brescia University (Ky.) for a four-game conference series March 20-21.
Follow the Pioneers on Twitter @PointParkSports and @PPUsoftball.