Point Park softball sweeps Brescia in final two games of KIAC series
March 22, 2015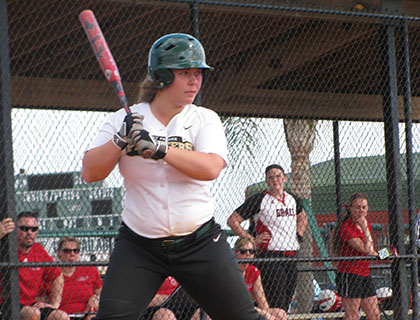 Jess Beitler went 5 for 8 in the doubleheader Saturday. Photo by Lauren Jones.
BOX SCORE 1
BOX SCORE 2

OWENSBORO, Ky. -- Point Park University softball rolled past Brescia University 8-7 and 6-1 in KIAC action Saturday, taking the series 3-1.
The Pioneers (11-7, 7-1 KIAC) rallied and scored four runs in the seventh inning for a come-from-behind 8-7 victory over Brescia (5-5, 5-3 KIAC) in game one.
The Pioneers were trailing 7-4 heading into the top of the seventh when Taylor Geary started the inning with a double. Gabi Vogt hit an RBI double to score Geary with one out.
Karen Mao reached on an error by the right fielder, and Jess Beitler hit Vogt home on a double to center. Alyssa McMurtrie two-run single drove in the winning runs before the final two outs of the inning.
Sarah Urcheck (2-1) came in the bottom of the sixth for Kate Reese, holding the Bearcats to one run on three hits and striking out two for the win.
Reese (4-4) put in five innings of work, allowing six runs on seven hits and recording two strikeouts.
Geary, Vogt and Becca Babincak were each 2 for 4, and Beitler was 3 for 4 with two singles and a double. Natalie Zivic pounded a solo home run in the top of the sixth, her second of the year, to contribute to the win.
In game two, neither team scored until the fourth inning. Point Park jumped on the board first with a run in the top of the fourth and kept the momentum going into the sixth.
Geary led the charge with a triple and scored when the Bearcats got Babincak out at first.
Vogt got on with a single, and Mao homered to make the score 4-0.
Beitler hit safely, and McMurtrie hit a two-out, two run double to extend the lead to 5-0 into the bottom of the fifth.
A strong defensive effort contributed to the Pioneers' game, and pitcher Hannah Harley (4-0) allowed only one run on nine hits with no walks and five strikeouts. Harley forced the Bearcats to hit 11 fly outs in the game.
Point Park's final run came in the top of the sixth when freshman Carly Rosso hit a double to get on base and advanced to third on a single by Babincak.
Coach Michelle Coultas took advantage of Rosso's speed and sent her home on a passed ball.
Point Park returns to Pittsburgh for another KIAC matchup against rival Carlow University (7-1, 4-0 KIAC) March 24 at 5 p.m.
Follow the Pioneers on Twitter @PointParkSports and @PPUsoftball.