Point Park sweeps Carlow in KIAC rivalry doubleheader, 5-3 and 11-0 (5)
March 24, 2015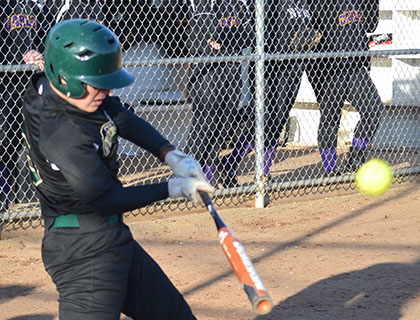 Senior Lauren Fevola hit a solo home run to contribute to the Pioneers' 11-0 victory.

BOX SCORE 1
BOX SCORE 2

PITTSBURGH -- Point Park University softball swept Carlow University 5-3 and 11-0 in a KIAC conference match up Tuesday, March 24 at Fairhaven Park.
Junior pitcher Hannah Harley and the Pioneers (13-7, 9-1 KIAC) shut down the Celtics' (7-3, 4-2 KIAC) offense in five innings during the nightcap.
Harley (5-0) threw a three-hitter with one strikeout and one walk in five innings of work. She faced only 20 batters and forced the Celtics into 10 fly outs.
Taylor Geary and Becca Babincak started the game with a single apiece, and Karen Mao hit them home with a two-run double to put the Pioneers on the board first.
In the second inning, catcher Lauren Fevola hit a solo home run over the center field fence.
Senior Audrey Eisentrout hit a stand-up double to get on base, and Gabi Vogt hit her home on a single to make the score 4-0 heading into the bottom of the second.
Designated player Jess Beitler hit a solo home run to start off the third. Two walks and a single set Babincak up for a hard hit three-run triple that put the Pioneers up 8-0.
The three game-clinching runs came in the top of the fifth. Two walks set up Geary to hit an RBI single that scored Alyssa McMurtrie. Babincak reached on a single, and Vogt hit a two-run single to score Eisentrout and Geary, making the score 11-0.
Carlow tried to stay alive in the bottom of the fifth, but Babincak snagged a line drive to the left side, robbing them of another hit for the second out of the inning. Carlow's final batter hit a ground out to end the game.
In game one, senior Kate Reese (5-4) allowed three runs on five hits and went the distance with four strikeouts and three walks in seven innings.
Reese and the Pioneers got out of a jam in the seventh inning after two Carlow players reached on errors.
A single loaded the bases with no outs, but Reese forced two grounders and took them herself, getting two outs at home plate.
Carlow's Kenzie Young hit a line drive double to deep right center to score three runs, but Point Park got the final out on a weak pop-up to third.
Eisentrout ripped a two-run single and Geary hit an RBI single to put the Pioneers up 3-0 in the top of the fourth.
Beitler hit an RBI single in the top of the seventh that brought in Vogt and Mao, giving the Pioneers a 5-0 lead heading into the final inning.
Point Park heads out for another KIAC four-game series at Asbury University (Ky.) (2-1, 1-1 KIAC) March 27 and 28 before heading to Berea College (3-3) for a non-conference doubleheader March 29.
Follow the Pioneers on Twitter @PointParkSports and @PPUsoftball.