Point Park softball beats Asbury twice, is 11-1 in KIAC conference action
March 28, 2015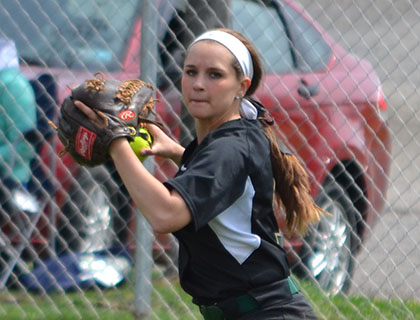 Point Park's defense stranded 12 Asbury runners on base Friday. Photo by Sam Robinson.
BOX SCORE 1
BOX SCORE 2

WILMORE, Ky. -- Point Park University softball scored 14 runs in two games, beating Asbury University 7-5 and 7-4 on the road in KIAC conference action Friday.
It was a cold day in Kentucky with temperatures in the 30s, but the Pioneers (15-7, 11-1 KIAC), accustomed to the snow flurries and cold, put the bat on the ball and scored runs when they needed to beat Asbury 7-5 in a come-from behind victory in game one.
The Pioneers were down 5-2 until Jess Beitler ripped a three-run home run in top of third to tie the game 5-5.
After Point Park scored two runs in the first, Asbury (4-4, 1-3 KIAC) jumped out to an early lead, scoring five runs in the bottom of the second to make the score 5-2.
Senior pitcher Kate Reese (6-4) got the win in seven innings of work, allowing five runs (three earned) on 12 hits, three walks and one strikeout.
Point Park scored again in the top of the fourth when senior Gabi Vogt singled to left field to score Taylor Geary.
The final run of the game came in the top of the sixth when Audrey Eisentrout reached first on a single and scored when Geary hit a triple to right field.
Geary and Becca Babincak were 3 for 4 in the effort at the plate.
In game two, Karen Mao hit a two-run home run in the first to start off the game.
Point Park led 3-0 heading into the bottom of the third when the Eagles scored four runs.
With the Eagles up 4-3 heading into top of fourth, Point Park scored four runs and did not allow Asbury to score the remainder of the game.
Senior Lauren Fevola hit a double and advanced to third on a single by Geary. Fevola scored on a wild pitch and Babincak scored Geary on a single to make the score 5-4.
With runners on first and third, Asbury brought in a new pitcher and the Pioneers took advantage.
Mao hit a two-run double to right to score Babincak and Vogt before the inning ended on a fly out.
Pitcher Hannah Harley (6-0) allowed four runs (all earned) on nine hits, two walks and six strikeouts in the complete game win.
Point Park completes the four-game series at Asbury today with a game one start set for noon.

Follow the Pioneers on Twitter @PointParkSports and @PPUsoftball.