Point Park softball goes 5-1 on weekend road trip to Kentucky
March 29, 2015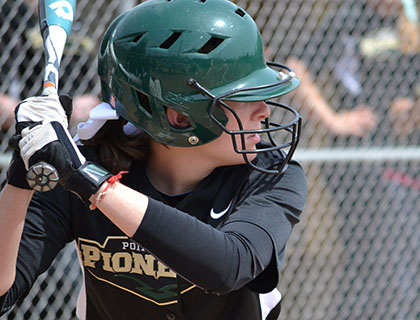 Point Park scored 46 runs in six games this weekend in Kentucky. Photo by Sam Robinson.

BOX SCORE 1
BOX SCORE 2

BEREA, Ky. -- Point Park University softball came away with a 5-1 record on its weekend road trip to Kentucky, this after a doubleheader split at non-conference Berea (Ky.) College on Sunday. Point Park lost to Berea, 5-2, but then came back and won the second game, 1-0.
The weekend road trip to Kentucky started off with a four-game, KIAC series sweep at Asbury. The Pioneers (18-8, 13-1 KIAC) won on Friday night by scores of 7-5 and 7-4 then cruised to victories of 15-4 and 14-0, both in five innings, on Saturday.
Hannah Harley was the star of the Pioneers' 1-0 win at Berea on Sunday. She improved to 8-0 on the year with a complete-game two-hitter. The junior from Indiana, Pa. faced 24 batters in seven innings, and forced the Mountaineers (5-7) to hit 11 pop-ups.
The only run that Harley needed came in the top of the first when the Pioneers took a 1-0 lead. Taylor Geary led off with a walk and came around to score on Gabi Vogt's RBI single.
In game one, Point Park could not get its bats moving and lost 5-2. Berea built a 5-0 lead before the Pioneers added a couple of late runs to break up the shutout.
Sophomore Becca Babincak singled and stole second to get into scoring position in the top of the sixth. Karen Mao hit her home with a single to right center, and later scored on a fielder's choice.
Kate Reese (7-5) took the loss on the mound. She allowed five runs (two earned) on four hits with one walk and one strikeout in four innings of work.
Sarah Urchek (2-1) went in the bottom of the fifth in relief, allowing no runs on two hits with one strikeout.
The Pioneers face Carlow University once again at Fairhaven Park March 31. Game time is 3 p.m. for a KIAC doubleheader. Live streaming video courtesy of Carlow will be available at www.iHigh.com/Carlow.
Check back later for complete stats and recap on Saturday's games at Asbury.
Follow the Pioneers on Twitter @PointParkSports and @PPUsoftball.