Point Park softball splits conference doubleheader with Carlow
April 1, 2015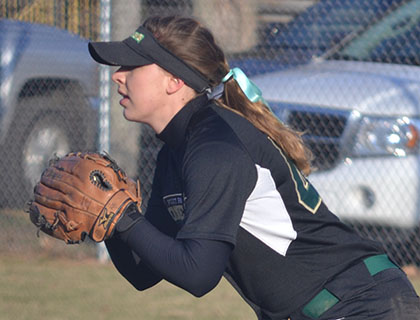 Point Park had a 10-game conference win streak going. Photo by Karina Graziani.
PITTSBURGH – Point Park softball's 10-game conference win streak came to an end Tuesday against Carlow University. The Pioneers (19-9, 14-2 KIAC) won game one 9-5, but lost 4-2 in the nightcap.
Carlow (9-5, 6-4 KIAC) was ahead 5-2 in game one heading into the fifth, but Point Park scored big to retake the lead.
Senior Karen Mao singled to start the inning and Jess Beitler hit her in with an RBI double.
Alyssa McMurtrie pounded a two-run home run to score Beitler, tying the score at 5-5.
A walk and a hit batter set Taylor Geary up for an RBI double. The second out of the inning came when Point Park tried to stretch a run home on the hit.
Becca Babincak reached on an error, and Gabi Vogt hit an RBI double before being tagged out rounding second. Point Park scored six runs in the fifth inning to make the score 8-5 before adding an insurance run in the seventh.
Senior Kate Reese (8-5) got the win for the Pioneers, allowing five earned runs on eight hits with four strikeouts and no walks. Sarah Urchek put in an inning of relief, facing four batters and striking out one.
In game two the score was tied 2-2 through the fifth. Point Park's only runs came from solo home runs by Beitler and Geary in the second and third innings respectively.
A home run by Carlow senior Emily Pritts put the Celtics up 4-2 in bottom of the fifth, and Point Park could not recoup the deficit.
Pitcher Hannah Harley suffered her first loss of the season. Harley (8-1) allowed four runs (two earned) on six hits with five strikeouts and one walk.
Point Park plays its conference home opener today against the University of Rio Grande at Fairhaven Park. The doubleheader begins at 3 p.m.
Follow the Pioneers on Twitter @PointParkSports and @PPUsoftball.