Point Park slugs it out in KIAC doubleheader against Rio Grande
April 2, 2015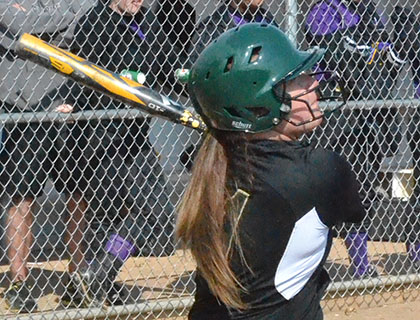 Despite the split, Point Park had 14 hits, including three home runs. Photo by Karina Graziani
BOX SCORE 1
BOX SCORE 2

PITTSBURGH – Point Park University softball split its first home doubleheader with Rio Grande (Ohio) Wednesday at Fairhaven Park, losing game one 10-2 in six innings and winning game two 7-2.
In game two, Point Park (20-10, 15-3 KIAC) and Rio Grande (14-7, 8-2 KIAC) were tied at 2-2 heading into the fourth inning.
Senior Karen Mao scored on an error to break the tie, and Taylor Geary hit a solo home run in the bottom of the fifth the extend the lead to 4-2.
The Pioneers took off in the bottom of the sixth. Two singles and a wild pitch set catcher Lauren Fevola up for a three-run home run.
After Rio Grande scored two runs in the first, Point Park's defense buckled down and did not allow them to score the remainder of the game.
Senior pitcher Kate Reese (8-5) allowed only two unearned runs on nine hits with no walks and four strikeouts.
Mao was 2 for 3 with a triple and one RBI, and Jess Beitler was 2 for 3 with an RBI in the effort at the plate.
Point Park came up short at the plate in game one and lost 10-2 in six innings.
Rio Grande scored three runs in the first inning off a three-run home run by freshman Tayler Arndt. The Red Storm scored another run in the top of the third off a solo home run by junior Kim Rollins.
The Pioneers tried to regain momentum in the bottom of the fourth. Mao hit a one-out double and Beitler hit a two-run home run to put the Pioneers on the board.
Arndt and Rollins hit home runs in the top of the sixth and Rio Grande scored six runs. Point Park's offense could not make up the difference, and the mercy rule was enforced. Rollins and Arndt hit two home runs apiece during the game.
Pitcher Hannah Harley (8-2) allowed 10 runs on 11 hits with four walks and five strikeouts in 5.1 innings of work. Sarah Urchek came in and faced four batters, allowing two hits and no runs.
In anticipation of inclement weather, the second half of the four-game series with Rio Grande is slated for an 11 a.m. start today.
Follow the Pioneers on Twitter @PointParkSports and @PPUsoftball.