Point Park softball hands IU Southeast its first shutout of the season

April 10, 2015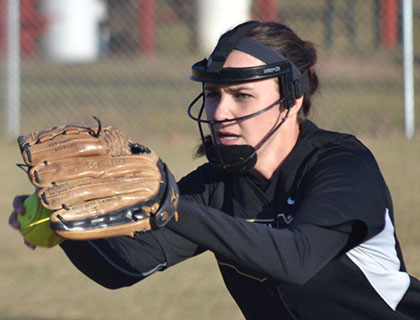 Hannah Harley tossed a one-hitter to lead Point Park to an 8-0 victory in five innings in game two. Photo by Karina Graziani
PITTSBURGH -- Point Park University softball split a KIAC conference doubleheader with Indiana University Southeast, losing 5-2 in game one and winning 8-0 in five innings in the nightcap at Fairhaven Park.
The Pioneers (21-13, 16-6 KIAC) shut out the Grenadiers (18-4, 12-2 KIAC) in game two, 8-0, in five innings. It was the first shutout of the season for IU Southeast.
Winning pitcher Hannah Harley (9-3) threw a one-hitter to lead the solid Point Park defense.
Harley struck out three and walked two in five innings of work, and Point Park's defense retired 12 of the 18 batters faced.
Point Park scored four runs in the fifth inning to solidify the win.
A single, two walks and a wild pitch put runners on second and third with one out. Natalie Zivic hit an RBI single to score Gabi Vogt, and catcher Lauren Fevola followed with a single to score Jess Beitler.
An error by the IU Southeast centerfielder on Carly Rosso's hit allowed Zivic to score. Leadoff hitter Taylor Geary hit an RBI single to score Fevola, and the inning ended on a force play at third.
Point Park scored two runs in the first off a sacrifice fly to right field by Beitler that scored Becca Babincak and an RBI single by Alyssa McMurtrie that scored Vogt.
In the bottom of the third, Zivic hit an RBI double to score Karen Mao, and Beitler scored when Rosso reached on a throwing error by the shortstop.
In game one, Point Park came up short in the 5-2 loss.
The Pioneers' only runs came in the bottom of the sixth when Mao hit a two-run home run over the center field fence, her fourth on the year. Mao's home run made the score 3-2 heading into the seventh.
IU Southeast scored two runs in the top of the seventh to extend the lead to 5-2, and Point Park could not answer.
Grenadiers' sophomore pitcher Jessica Leanhart struck out 13 Point Park batters.
Senior Kate Reese (9-7) took the loss on the mound, allowing just five runs on 12 hits with three strikeouts and two walks.
The Pioneers complete the four-game series with IU Southeast tomorrow at Fairhaven Park. Game one of the doubleheader begins at 1 p.m.
Follow the Pioneers on Twitter @PointParkSports and @PPUSoftball.