Pioneers win finale in walk-off fashion, split series with IU Southeast
April 12, 2015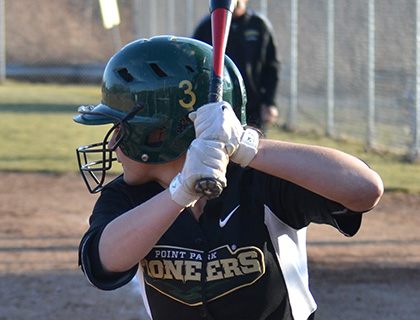 Sophomore Alyssa McMurtrie hit a walk-off home run in the game two 8-5 win. Photo by Karina Graziani
PITTSBURGH – Point Park softball beat IU Southeast, 8-5, on Alyssa McMutrie's walk-off, three-run homer in the series finale versus IU Southeast on Saturday. The Pioneers, who split the series with the Grenadiers, lost the first game Saturday, 6-5.
Point Park (22-14, 17-7 KIAC) jumped out to an early lead when leadoff hitter Taylor Geary reached on an error and Becca Babincak singled. Senior Gabi Vogt hit them in with a two-run single, making the score 2-0.
The Pioneers scored two more runs in the bottom of the third when Geary got into scoring position with a double and Vogt singled to get her in.
With the Pioneers up 4-0, the Grenadiers (19-5, 13-3 KIAC) scored one run in the top of the fourth before Point Park's defense turned a 4-6-3 double play to end the inning.
Point Park scored another run in the bottom of the fifth, but IU Southeast put together five hits in the top of the sixth to tie the score at 5-5. Point Park's defense retired three batters in order in the top of the seventh and won the game in the final inning with McMurtrie's home run.
Winning pitcher Hannah Harley (10-3) went the distance, allowing five runs on 11 hits with four strikeouts and one walk.
In game one, the Pioneers were stopped one run short of the win, 6-5.
Point Park took the lead in the first inning when Babincak singled and senior Karen Mao ripped a two-run home run to bring her in. Natalie Zivic had a solo shot in the bottom of the second to make the score 3-0.
The Grenadiers tied the score 3-3 in the top of the fourth with two doubles and a single. They took the lead in the top of the sixth, scoring three runs off four hits.
Point Park got two runs back when Mao doubled to get on base and McMurtrie hit a two-run home run, making the score 6-5.
Point Park relief pitcher Sarah Urchek retired the side in the top of the seventh, but the Pioneers could not score in the final inning.
Kate Reese (9-8) went five and a third innings allowing six runs (five earned) on nine hits. Urchek put in an inning and two thirds of work allowing no runs on two hits while striking out two and walking none.
The Pioneers face non-conference West Virginia Tech April 15 at 3 p.m. Point Park's final KIAC home series is against Midway April 17 and 18.
Follow the Pioneers on Twitter @PointParkSports and @PPUSoftball.