Point Park scores 22 runs in 10 innings to sweep KIAC DH against Midway
April 18, 2015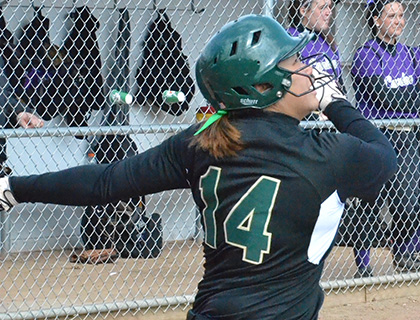 Karen Mao went 3-for-6 with seven RBIs on the day. Photo by Karina Graziani

BOX SCORE 1
BOX SCORE 2
PITTSBURGH -- Point Park University softball swept Midway College in a KIAC doubleheader Friday, 14-1 and 8-0. Both games ended in five innings due to the mercy rule.
The Pioneers (26-14, 19-7 KIAC) scored 14 runs in the first inning of game one. Midway pitcher Gabby Bruner hit a solo homer in the top of the first, scoring the only run of the day for the team.
Seniors Gabi Vogt and Karen Mao each hit three-run home runs, and sophomore Alyssa McMurtrie hit a two-run home run to contribute to the big inning.
Freshman Carly Rosso singled twice and had three RBIs, and senior Natalie Zivic hit an RBI double and a single. Jess Beitler and Becca Babincak each hit two singles.
Point Park batted through the order twice before Midway (4-23, 3-21 KIAC) got the third out of the inning.
Hannah Harley (11-3) got the start and the win in three innings of work, allowing only one run on two hits and striking out three.
Megan Dyer (1-2) put in two innings on the mound, allowing two hits and striking out one.
Point Park blanked the Eagles in the second game of the day, 8-0.
Senior Kate Reese (11-8) got the win for the Pioneers in four innings of work allowing only one hit and striking out five.
Sophomore Michaela Lewis-Lambert retired the side in the fifth to contribute to Point Park's solid defensive effort.
Mao hit a three-run double to put the Pioneers up 3-0 in the first inning. Rosso had an RBI single and sophomore Taylor Geary pounded a two-run double to extend the lead to 6-0 in the bottom of the second.
McMurtrie and Mao had an RBI apiece in the bottom of the fourth to clinch the game in five innings.
The Pioneers complete the four-game home stand against Midway Saturday with a game one 12 p.m. start. It is Point Park's Senior Day, and a brief recognition will take place before game one, beginning approximately at 11:30 a.m.
Follow the Pioneers on Twitter @PointParkSports and @PPUSoftball.