Point Park softball drops final two conference games against Rio Grande

April 3, 2015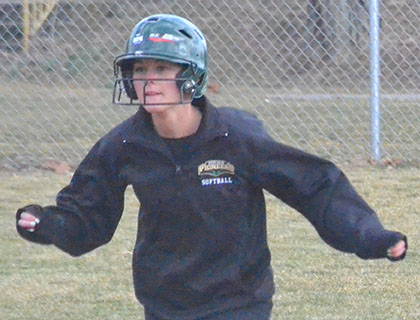 Freshman Carly Rosso had one of only two Point Park hits in game two. Photo by Karina Graziani
PITTSBURGH -- Point Park University softball dropped the final two games of a four-game home series against Rio Grande (Ohio), 13-10 and 8-0 (five innings) at Fairhaven Park Thursday.
The Pioneers (20-12, 15-5 KIAC) trailed, 5-0, but tied the score in the bottom of the second inning.
Catcher Jess Beitler started the inning off with a double. Senior Karen Mao singled, and Natalie Zivic hit a two-run double to put the Pioneers on the board.
Freshman Carly Rosso put down a solid bunt to get on base and scored when Taylor Geary reached on an error. Gabi Vogt singled to drive in Geary and tied the score 5-5.
Rio Grande (16-7, 10-2 KIAC) scored two runs in the top of the third and four in the top of the fifth to extend the lead to 11-5 before the Pioneers made a pitching change.
Beitler ripped a two-run home run in the bottom of the fifth to cut the lead to 11-7, but Rio Grande tacked on two more runs in the final two innings.
The Pioneers tried to close the gap but ran out of time. Two walks and an error set Rosso up for a two-run double in the bottom of the seventh, making the score 13-9. Lauren Fevola scored from third on an error by the third baseman, but it was too little too late for the Pioneers.
Pitcher Kate Reese (9-6) allowed 11 runs (nine earned) on 10 hits with four walks and three strikeouts in 4.2 innings of work.
Sarah Urchek (2-1) allowed two earned runs on eight hits and recorded three strikeouts in two innings of relief.
By the end of game one, the rain had started to come down hard, and Point Park and Rio Grande scrambled to pull the tarp onto the field.
After an hour and a half rain and lightning delay, game two was underway.
Rio Grande's defense shut down the Point Park batters, and its offense scored eight runs to end the game in five innings.
Point Park had only two hits in the bottom of the third from Fevola and Rosso.
Rio Grande scored seven runs in the first two innings, and the game winning run in the top of the fourth.
Pitcher Hannah Harley (8-3) allowed eight earned runs on nine hits with two walks and three strikeouts in four innings. Sarah Urchek put in an inning of relief, allowing one hit and no runs.
Point Park heads to Greensburg to face Seton Hill University in a non-conference doubleheader April 8.
Follow the Pioneers on Twitter @PointParkSports and @PPUsoftball.