Hannah Harley the 2015-16 Haberle Scholarship recipient at Point Park

May 1, 2015 at 1:30 p.m. ET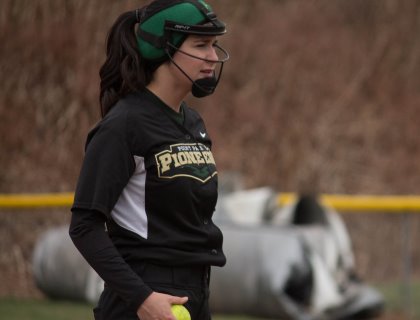 PITTSBURGH -- Hannah Harley, a junior on the Point Park University softball team, is the 2015-16 recipient of the department's Dolores Haberle Scholarship, Director of Athletics Dan Swalga announced.
Harley is a native of Indiana, Pa., and is a two-time all-conference pitcher for the Pioneers' softball team. She was selected from a pool of candidates nominated by their respective head coaches in the department.
Point Park Board of Trustees member Edward A. Haberle (BUS '79) established the Dolores Haberle Scholarship Fund in honor of his mother. Each year, a deserving Point Park scholar-athlete is awarded the scholarship with the first award given in 2012.
Eligible candidates must excel in their sport and maintain a 3.0 grade-point average. They must also demonstrate integrity and leadership and be a good ambassador for the University and the department on and off the field.
Harley is a three-year starting pitcher for the Pioneers. She just finished a strong junior season in which she was 11-4 with a 3.45 ERA to earn all-conference honors for the season year in a row.
She pitched in 19 games and 99.1 innings while picking up 74 strikeouts compared to 25 walks. For her career, Harley has a record of 22-11 with a 3.66 ERA. She has 153 career strikeouts in 216 innings.
Harley is also very strong off the field. She is an NAIA Scholar-Athlete who owns a 3.65 grade-point average as a photography major. She also carries minors in French studies, psychology and entrepreneurship. Harley is a member of the Point Park Honors Program, and she studied abroad in France in the Fall 2014.
Harley is a member of the Point Park Photo Collective and co-editor and content coordinator for Fix Magazine. She was an Orientation Leader on campus in summer 2015 and was previously a community facilitator.
Ed Haberle is a 2004 inductee into the Pioneer Athletic Hall of Fame as a result of a distinguished baseball career at Point Park from 1976-79. He earned his business degree at Point Park in 1979 and is currently the Vice President of North American Sporting Goods for Nike.
Haberle was an NAIA Honorable Mention All-American who hit .373 with 12 home runs and 97 RBIs during his Point Park career. He led the Pioneers to the NAIA World Series in 1978 and 1979, and he was named to the World Series All-Tournament Team in 1979 when the Pioneers finished in third place as a team.
For more information on Point Park University athletics, visit the Pioneers website at www.pointpark.edu/athletics. Follow the Pioneers on Twitter @PointParkSports