Pioneers drop first two games in Florida to Judson and Mich.-Dearborn

March 2, 2015 1:00 p.m.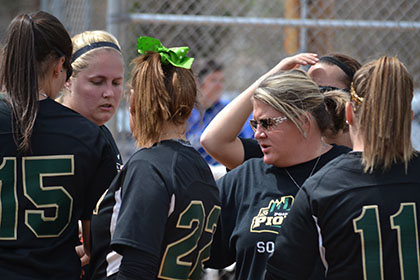 BOX SCORE 1
BOX SCORE 2

CLERMONT, Fla. – After two rainouts on the first day of the spring-break trip to Florida, Point Park University softball opened its season with two losses on Sunday, 8-1, versus Judson (Ill.) and 4-2 versus Michigan-Dearborn.
Kate Reese (0-1), a senior from Penn Cambria HS, took the loss on the mound in four innings of work, allowing four runs on five hits and two walks with no strikeouts. Sarah Urchek came in relief the top of the fifth and allowed four runs on six hits. The sophomore from Pymatuming HS (Ohio) allowed no walks in three innings of relief.
Point Park could not get their bats moving, and Judson's junior pitcher Brianna Tennyson went the distance striking out six, walking one and scattering four hits over seven innings.
The Pioneers scored the lone unearned run in the bottom of the fourth when senior Gabi Vogt started it off with a double to left field. She advanced to third on a steal, making her way home when senior outfielder Audrey Eisentrout reached first base on an error with one out left in the inning.
Senior catcher Lauren Fevola moved Eisentrout over with a single, but the inning ended on a strikeout by Tennyson.
Shortstop Becca Babincak went 2 for 3 and singled twice in an effort at the plate.
Judson scored eight runs (five earned) on 11 hits, with four runs coming in the top of the seventh inning to stretch the lead from 4-1 to 8-1.
Point Park dropped the second game of the day against the University of Michigan-Dearborn, 4-2.
Senior Megan Dyer (0-1) put in a complete game of six innings to allow the Pioneers a chance to win. The Michigan native struck out three, walked two and allowed four runs (one earned) on two hits.
Point Park's two runs came in the top of the sixth. Fevola was hit by a pitch to start the inning. Freshman Carly Rosso, from Steel Valley HS, came in as a pinch runner and advanced to second on a passed ball. Audrey Eisentrout's patience at the plate paid off when she drew a walk, opening the door for Babincak's sacrifice hit to drive Rosso home.
Taylor Geary, a sophomore outfielder from South Allegheny HS, got out at first, but not before her hot shot to short Eisentrout home. Sophomore Alyssa McMurtrie kept the inning moving, reaching first with a single to center, but Vogt flew out to left field to end the threat.
Point Park had the tying run to the plate with one out in the seventh, but two flyouts in a row ended the game.
Babincak and Geary each collected RBIs, and senior Karen Mao went 2 for 3 with a single and double.
Dearborn senior pitcher Kayla Goodwin collected four strikeouts, walked four and scattered four hits over six innings of work. Junior Alex Elwell finished the game in the seventh, facing four Point Park batters and allowing a single by Mao.
Point Park returns to action on Monday with three contests. The Pioneers play Jackson College at 11 a.m. and face Grace (Ind.) (1 p.m.) and Bethel (Ind.) (3 p.m.) later in the day.
Follow the Pioneers on Twitter @PointParkSports and @PPUSoftball