Point Park softball 15-16 recruiting class adds five players to Pioneers program
July 17, 2015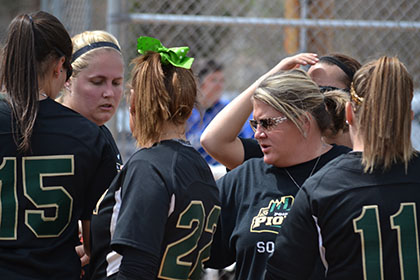 Photo by Sam Robinson
PITTSBURGH -- Point Park University softball's 2015-16 recruiting class added five players to the Pioneers' program under head coach Michelle Coultas.
"I'm excited about this recruiting class," said Coultas. "They're all committed to the sport, and this group works hard on the field and in the classroom."
The Pioneers were 29-16 overall and 21-7 KIAC last year but graduated nine seniors from that team. Point Park adds the following recruiting class to a roster that has four of nine starting hitters and two of five pitchers returning:
Ashley Iagnemma, P, Fr., Bridgeville, Pa/South Fayette HS


Standout pitcher Ashley Iagnemma from South Fayette High School will continue her career at Point Park. During her four-year high school career, she recorded 500 strikeouts with a 2.20 ERA.
Iagnemma led her team to a 2014 section title, helping her own cause at the plate with a .384 batting average. She was also a member of the honor roll and National Honor Society.
"Ashley is a talented pitcher and will be able to add depth to our pitching rotation," said Coultas. "She's adept at pitching complete games and can go the distance when we need her."
Erica Burns, P, Fr., Carmichaels, Pa/Carmichaels HS


Pitcher Erica Burns from Carmichaels High School adds another talented arm to the Pioneers' pitching staff.
Burns, who also plays infield and outfield, is a four-year letter winner in softball. She was named to the all-district and all-county teams for four years and was named to the all-state team this season. Burns was also the recipient of the WTAE Athlete of the Week award.
"Erica was a great pick-up," said Coultas. "She comes from a winning program. She will mainly be a pitcher, but I can put her anywhere [on the field]. She's versatile and has a great bat. Erica is the consummate athlete."
Shannon Davis, OF, Fr., West Mifflin, Pa./West Mifflin HS


Shannon Davis, an outfielder from West Mifflin Area High School, will bring some speed and power at the plate to the Pioneers.
Davis had a .379 batting average with 31 RBIs, 26 runs and 24 stolen bases. In addition to her efforts on the field, Davis was also part of the National Honor Society, High Honor Roll and a class officer. She plays for the Pittsburgh Nitro travel team and was a four year letter winner in both softball and swimming.
"[Davis] is dedicated to the sport," said Coultas. "She makes good contact at the plate, and will make an immediate impact to our outfield."
Delaney Baumis, C/OF, Fr., New Castle, Pa./Laurel HS


Delaney Baumis is a catcher/outfielder from Laurel High School in New Castle, Pa. Baumis caught every game this season for the Spartans without any errors and hit for an average .347.
She graduated Magna Cum Laude and was a High Honor Roll and President's Academic Excellence Award recipient. She plans to pursue broadcast reporting at Point Park.
"Delaney came from a good program with a good coach," said Coultas. "She'll help behind the plate and be a good complement to our pitchers."
Chelsea Rogel, IF/OF, So., New Wilmington, Pa/Wilmington Area HS
Chelsea Rogel, a transfer from Edinboro University and a graduate from Wilmington Area High School, can play both infield and outfield positions.
In high school, Rogel was a three-year member of the softball team and was named to the District 10 all-star team her junior and senior years.
"As a transfer student, Point Park is the best fit for her [Rogel]," said Coultas. "Chelsea is quick and will add speed and depth to our infield."
For more information on Point Park University athletics, visit the Pioneers website at www.pointpark.edu/athletics. Follow the Pioneers on Twitter @PointParkSports.