Point Park's Simonson named KIAC Volleyball Player of the Week
Oct. 1, 2013 at 12:30 p.m. ET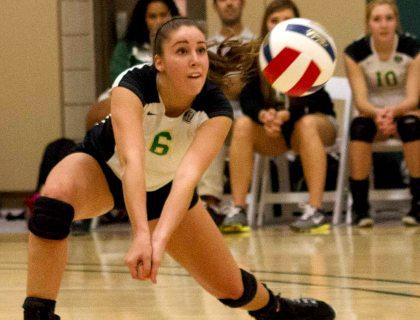 Shiloh Simonson is the KIAC Volleyball Player of the Week Sept. 23-29. Photo by Evan Schall.
PITTSBURGH -- Point Park University freshman outside hitter Shiloh Simonson has been named the Kentucky Intercollegiate Athletic Conference Volleyball Player of the Week for Sept. 23-29, 2013, the conference announced on Monday (Sept. 30).
Simonson, a graduate of Peters Twp High School and a native of Ft. Lauderdale, Fla., had two big matches last week to lead Point Park (13-10, 8-2 KIAC) to a 2-0 record on the week.
Simonson posted 11 kills and eight digs in a 3-2 home win over NCAA Divsion II Slippery Rock Sept. 24. She followed that up with 10 kills and eight digs in a KIAC home win over Midway, 3-0, which helped the Pioneers maintain their lead in the conference standings at 8-2.
Simonson has started all 23 matches for the Pioneers, and she plays in every rotation. She ranks second on the Point Park team with 187 kills (2.25 per set) ad 225 digs (2.71 per set). Simonson ranks ninth in the KIAC in kills and 10th in digs.
Simonson and the Pioneers are off until they visit the Clearwater (Fla.) Christian Invitational Oct. 11-12 for four matches.
Follow the Pioneers on Twitter @PointParkSports and @PointParkVB