Wurstle nets NAIA Honorable Mention All-American & All-Northeast Region honors
Dec. 11, 2013 at 11:00 a.m. ET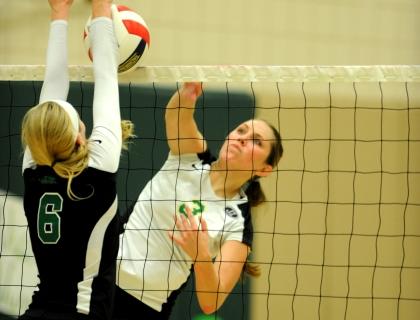 Photo by Evan Skowvron.
NAIA ALL-AMERICANS / NAIA ALL-REGION TEAMS
PITTSBURGH -- Point Park University volleyball senior Nicole Wurstle picked up two outstanding awards this week as the right-side hitter from Valley City, Ohio, was named a 2013 Tachikara-NAIA Volleyball Honorable Mention All-American and an AVCA-NAIA All-Northeast Region First Team selection.
Wurstle is just the third player in the history of Point Park volleyball to garner NAIA All-American honors joining Lindsey Oberacker (Honorable Mention 2011-12) and Livia Caluori (Third Team 2012). It is the first time in Wurstle's career that she was named All-American and the first time as an all-region player as well.
Wurstle capped off her career as a four-year starter for Point Park (21-19) this season with a career-high 402 kills. The 6-0 Wurstle had a hitting percentage of .376 to rank ninth in the NAIA. She also added 90 blocks and 69 digs on the year.
She finished her career with 1,022 kills, 478 blocks and a .348 hitting percentage over four years. Wurstle is just the third player in Pioneers history with more than 1,000 career kills along with Oberacker (2009-12) and Rachel Roddy (2007-10).
Wurstle was KIAC Volleyball All-Conference First Team this year, her second year in a row getting that honor. Overall, she is a three-time all-conference player.
She was one of only two KIAC players to earn NAIA All-American accolades with KIAC Player of the Year Sarah Sterling of Asbury (Ky.) also being named honorable mention. Sterling was also the only other KIAC player on the all-region team.
Also very strong in the classroom, Wurstle carries a 3.94 grade-point average as a biological sciences major.