No. 22 Point Park beats IU East, 3-1, in rematch of KIAC Tournament Finals
Sept. 6, 2013 at 10:00 p.m. ET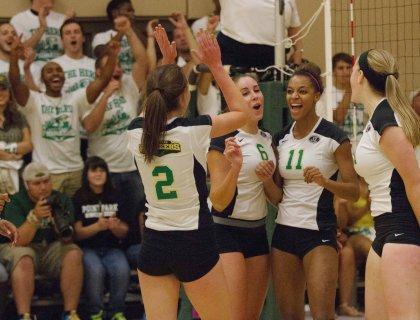 The Pioneers beat IU East in front of a big crowd of fans in The Herd Student Section. Photo by Evan Schall.
VIDEO: Post-Match Comments from Shiloh Simonson (15 K, 18 D, 7 aces)
By: Zachary Weiss, Point Park University Athletic Communications Student Assistant
PITTSBURGH—The No. 22-ranked Point Park University volleyball team opened its home schedule Friday night with a 3-1 victory at the Battle of the Boulevard Tournament against Kentucky Intercollegiate Athletic Conference foe Indiana University East.
It was a rematch of the KIAC Tournament title game from a season ago in which IU East bested Point Park in five sets. Friday's victory also ended a seven-match losing streak for the Pioneers.
Point Park (4-7, 1-2 KIAC) struck first in the opening set pulling away to a 25-15 win. The Pioneers maintained an early 7-1 advantage to open the second set. However this time IU East (10-2 1-1 KIAC) answered the call to square the match at a set apiece, 25-23.
The key point in the match perhaps came in the third set with Point Park up 2-1. A long point ended in the Pioneers' favor propelling them to a 25-14 third-set victory as they took control of the match.
After the Red Wolves took an early lead in the fourth set, Point Park responded to open up an 18-10 advantage. The Pioneers then withstood a late IU East rally to hang on and win the clinching set, 25-23.
Freshman Shiloh Simonson led the Pioneers with 15 kills to go along with 18 digs and seven aces. Roxanne Grundmeier added to the offense with seven kills while Nikki Inquartano chipped in four.
"We've had a lot of faith in all three of them for a long time, they're just finding faith in themselves," assistant coach Neal Brown said.
Also contributing to the Point Park attack was Nicole Wurstle with her 12 kills and .455 attack percentage. Olivia Fisher had a team-leading 27 digs.
The Pioneers won the match, their first KIAC victory of the season despite the absence of senior outside hitter Chelsea Katkich, who remains out due an ankle injury.
Point Park will play two matches in day two of the Battle of the Boulevard Tournament as it faces Montreat at 11 a.m. and Tiffin at 3 p.m. 
Follow the Pioneers on Twitter @PointParkSports and @PointParkVB