No. 22 Point Park takes second place at its Battle of the Blvd Tournament
Sept. 7, 2013 at 8:50 p.m. ET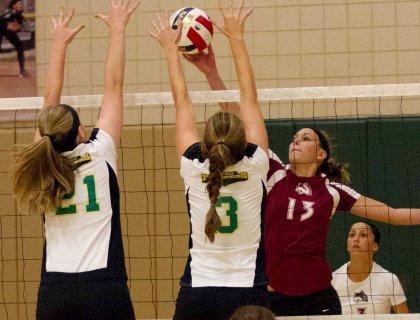 Nikki Inquartano (21) and Nicole Wurstle (3) put up a block in Friday's win over IU East. Photo by Evan Schall.
By Zachary Weiss, Point Park University Athletic Communications Student Assistant
PITTSBURGH -- The No. 22-ranked Point Park University volleyball team placed second at its Battle of the Boulevard Tournament with a 3-1 loss to NCAA Division II Tiffin University in the championship match Saturday afternoon at the Student Center Gym. 
Earlier in the day, Point Park (5-8, 1-2) defeated Montreat (N.C.) College, 3-0. Point Park went 2-1 in its annual event to place second, and Tiffin (3-0) went undefeated two take the title. Montreat (4-8) was 1-2 to place third, and KIAC member IU East (10-4) was 0-3 to place fourth.
Point Park beat Montreat, 28-26, 25-11, 25-23. The Pioneers got the first-set win on their fifth set point. Point Park built leads of 8-0 and 23-7 in the second set and came back from a 20-12 deficit in the third to make it a sweep.
Tiffin beat Point Park, 25-19, 22-25, 25-20, 25-17. The Pioneers fell behind early in the first set to the Tiffin Dragons ultimately falling 25-19. Point Park would square the match after holding on to an early lead en route to a 25-22 victory.
The third set would prove pivotal as both teams kept things close. Ultimately it was the Dragons who pulled ahead and won 25-20. In the final set, Tiffin kept its momentum and despite a Point Park comeback, came out on top 25-17.
Senior right-side hitter Nicole Wurstle and freshman outside hitter Shiloh Simonson were named to the all-tournament team from Point Park. Wurstle totaled seven kills versus Montreat and 11 versus Tiffin. Simonson had 21 kills and 28 digs in the two matches Saturday.
Roxanne Grundmeier recorded nine kills and four blocks versus Montreat and seven kills and nine digs versus Tiffin. Paige Baker had a team-high 12 digs versus Montreat, and Olivia Fisher came up with a team-best 18 digs versus Tiffin. Setter Cara Bradley totaled 29 and 36 assists in the two matches, respectively.
Senior outside hitter Chelsea Katkich played in both matches of the day as a senior specialist. She missed the previous seven matches due to injury.
Point Park hopes to get back to its winning ways Tuesday when they travel to Fairmont State for a 7 p.m. contest.
Follow the Pioneers on Twitter @PointParkSports and @PointParkVB
2013 Battle of the Boulevard Team Standings
Tiffin                 3-0
Point Park          2-1
Montreat           1-2
IU East              0-3
2013 Battle of the Boulevard All-Tournament Team
Danielle McQuade – Tiffin (MVP)
Tiffany Buchinger- Tiffin
Nicole Wurstle Point Park
Shiloh Simonson- Point Park
Hannah Scholz- Montreat
Mallory Livingston- IU East